CONSTRUCTION OF STEAM EDUCATION ACTIVITIES FOR PRESCHOOLERS AGED 5-6 TOWARD THE ENGINEERING DESIGN PROCESS
Abstract
This study was conducted to propose principles and procedures for developing STEAM activities for 5-6-year-old children in preschool towards the Engineering Design process. The primary research method is analyzing and synthesizing domestic and foreign documents and designing educational activities. The initial overview research results show that applying the Engineering Design process in construction and organizing STEAM activities for 5-6-year-olds is appropriate and feasible. The principles, design process of STEAM activities and specific illustrative examples presented in the article will be documents for preschool teachers to reference and apply to improve the quality of children's education in the preschool.
Downloads
Download data is not yet available.
References
[1]. Aminah, A. (2019). STEM-STEAM in Early Childhood Education in Malaysia. Presented at Third International Conference of Child Research Network Asia (CRNA). Truy cập ngày 15/11/2022 tại link: https://www.childresearch.net/projects/fullpaper/2020_03.html
[2]. Ata Aktürk, A. (2019). Development of a STEM based engineering design curriculum for parental involvement in early childhood education [Thesis (Ph.D.) -- Graduate School of Social Sciences. Early Childhood Education.]. Middle East Technical University.
[3]. Clemens, S.G. 1999, Editing: Permission to Start Wrong. Early Childhood Research & Practice. v1 n1 Spr 1999.
[4]. Fleer, M. (2021). The genesis of design: learning about design, learning through design to learning design in play. International Journal of Technology and Design Education. https://doi.org/10.1007/s10798-021-09670-w
[5]. Hoàng Thị Phương (2020). Đặc trưng giáo dục STEAM cho trẻ mầm non. Tạp chí khoa học trường Đại học Sư phạm Hà Nội. 65-11A, 108-116.
[6]. Isbell, R.T., & Yoshizawa, S.A. (2020). Nurturing Creativity: An Essential Mindset for Young Children's Learning. The National Association for the Education of Young Children.
[7]. Jolyn Blank, Stefanie Lynch (2018), Growing in STEM. The Design Process: Engineering Practices in Preschool. Truy cập ngày 15/11/2022 tại link: https://www.naeyc.org/resources/pubs/yc/sep2018/design-process-engineering-preschool
[8]. Lee, M.N., Chang, W.A. (2019). Developing a STEAM-Based Instructional Design Model Using Storytelling for Early Childhood Education. Teacher Education Research, 58(1): 99-116.
[9]. Linder, S.M., A.M. Emerson, B. Heffron, E. Shevlin, A. Vest, & A. Eckhoff. (2016). "STEM Use in Early Childhood Education: Viewpoints from the Field." Young Children 71 (3): 87–91.
[10]. Major, A. (2018, October 9). Engineering with preschoolers and kindergartners: See it in
action! Truy cập ngày 15/11/2022 tại link: https://blog.eie.org/engineering-with-preschoolers-andkindergartners-see-it-in-action.
[11]. NGSS Lead States (2013). Next Generation Science Standards: For States, by States. Washington DC: The National Academies Press.
[12]. Root-Bernstein, R., & Root-Bernstein, M. (1999). Sparks of genius: The thirteen thinking tools of creative people. Houghton, Mifflin and Company.
[13]. Sneideman, J. M. (2013). Engaging Children in STEM Education EARLY! Feature Story. Truy cập ngày 15/11/2022 tại link: http://naturalstart.org/feature-stories/engaging-children-stem-education-early
[14]. Trần Viết Nhi, Nguyễn Thị Hoàn (2020). Thiết kế hoạt động giáo dục STEAM cho trẻ mầm non. Kỷ yếu Hội thảo khoa học cán bộ trẻ các trường ĐHSP toàn quốc lần thứ 8 năm 2020. Trường ĐHSP Huế. NC/261-2020, 617-629.
[15]. Trần Viết Nhi, Nguyễn Tuấn Vĩnh, Nguyễn Thị Bích Thảo (2020). Bồi dưỡng năng lực tổ chức hoạt động giáo dục STEAM cho giáo viên mầm non. Tạp chí khoa học trường Đại học Sư phạm Hà Nội. 65-11A, 117-124.
[16]. Zhang Mengmeng, Yang Xiantong, and Wang Xinghua (2019). "Construction of STEAM
Curriculum Model and Case Design in Kindergarten." American Journal of Educational Research, vol. 7, no. 8 (2019): 485-490. doi: 10.12691/education-7-7-8.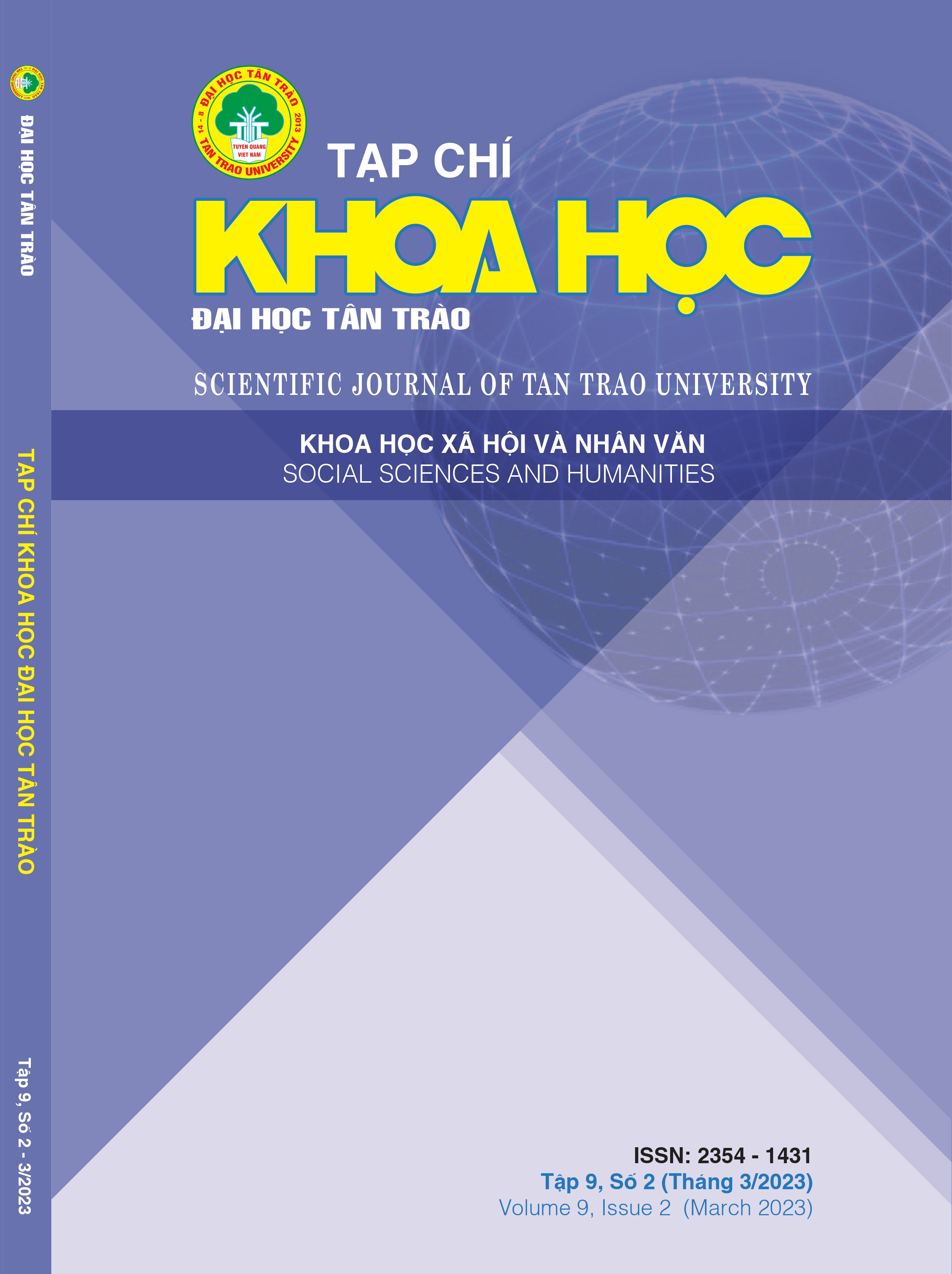 Downloads
How to Cite
Trần, V. N. (2023). CONSTRUCTION OF STEAM EDUCATION ACTIVITIES FOR PRESCHOOLERS AGED 5-6 TOWARD THE ENGINEERING DESIGN PROCESS. SCIENTIFIC JOURNAL OF TAN TRAO UNIVERSITY, 9(2). https://doi.org/10.51453/2354-1431/2023/823
Section
Humanities and Social Sciences
License
This work is licensed under a Creative Commons Attribution-ShareAlike 4.0 International License.
All articles published in SJTTU are licensed under a Creative Commons Attribution-ShareAlike 4.0 International (CC BY-SA) license. This means anyone is free to copy, transform, or redistribute articles for any lawful purpose in any medium, provided they give appropriate attribution to the original author(s) and SJTTU, link to the license, indicate if changes were made, and redistribute any derivative work under the same license.
Copyright on articles is retained by the respective author(s), without restrictions. A non-exclusive license is granted to SJTTU to publish the article and identify itself as its original publisher, along with the commercial right to include the article in a hardcopy issue for sale to libraries and individuals.
Although the conditions of the CC BY-SA license don't apply to authors (as the copyright holder of your article, you have no restrictions on your rights), by submitting to SJTTU, authors recognize the rights of readers, and must grant any third party the right to use their article to the extent provided by the license.