STUDY ON STEM EDUCATION MODELS AND ORIENTATION TEACHING IN ELEMENTARY
Keywords:
STEM, models, teaching methods, primary school
Abstract
STEM education is about equipping learners with the necessary knowledge and skills related to the fields of science, technology, engineering, and mathematics. These knowledge and skills must be integrated, integrated and complement each other, helping students not only understand the principles but also be able to practice and create products in daily life. The STEM education model will bridge the gap between academia and practice, creating capable people to work. This article explores the STEM education model and orientation in teaching in primary schools. Since then, in order to improve the quality of STEM education in schools
Downloads
Download data is not yet available.
References
[1] Bybee, R. W. (2014). The BSCS 5E instructional model: Personal reflections and contemporary implications. Science and Children, 51(8), 10-13.
[2] Basham, J. D., Israel, M., & Maynard, K. (2010). An ecological model of STEM education: Operationalizing STEM for all. Journal of Special Education Technology, 25(3), 9-19.
[3] Council, N. R. (2012). A framework for K-12 science education: Practices, crosscutting concepts, and core ideas: National Academies Press.
[4] Dankenbring, C., Capobianco, B. M., & Eichinger, D. (2014). How to
develop an engineering design task. Science and Children, 52(2), 3-8.
[5] English, L. D., & King, D. T. (2015). STEM learning through engineering design: fourth-grade students' investigations in aerospace. International
Journal of STEM Education, 2(14), 1-18. doi:10.1186/s40594-015-0027-7
[6] Honey, M., G. Pearson, and H. Schweingruber, STEM Integration in K-12 Education:: Status, Prospects, and an Agenda for Research2014: National
Academies Press.
[7] Israel, M., Pearson, J. N., Tapia, T., Wherfel, Q. M., & Reese, G. (2015). Supporting all learners in school-wide computational thinking: A crosscase qualitative analysis. Computers & Education, 82, 263-279.
[8] Josh Brown (2012), The Current Status of STEM Education Research, Journal of STEM Education, Volume 13, Issue 5.
[9] Merrill, C. (2009), The Future of TE Masters Degrees: STEM, Presentation at the 70th Annual International Technology Education Association Conference, Louisville, Kentucky.
[10] Nam N.D., Hieu L.T. (2017) " Improving the quality of STEM education in primary school in Tuyen Quang province" Scientific conference " Training teachers and educationnal administrators to meet the requirements of educationnal reform, Thai Nguyen University Publishing House, 11/2017, page176.
[11] Nam N.D, Hieu L.T. (2021), "Designing "Saving Pig" STEM activity for Vietnammese primary school". Journal of Physics: Conference Series (JPCS). vol.1835, 012057, IOP Publishing.
[12] Tytler, R. (2007). Re-imagining science education: Engaging students in science for Australia's future. Camberwell: Australian Council for
Educational Research (ACER).
[13] Thomas, B., & Watters, J. J. (2015). Perspectives on Australian, Indian and Malaysian approaches to STEM education. International Journal of
Educational Development, 45, 42-53.
[14] Todd R. Kelley, J. Geoff Knowles (2016), A conceptual framework for integrated STEM education, Kelley and Knowles International Journal of STEM Education.
[15] Zollman, A. (2012), Learning for STEM literacy: STEM literacy for learning, School Science and Mathematics, Vol. 112, No. 1.
[16] Zuga, K. F. (1994), Implementing technology education: A review and synthesis of the research literature. ERIC Document Reproduction Service No. ED 372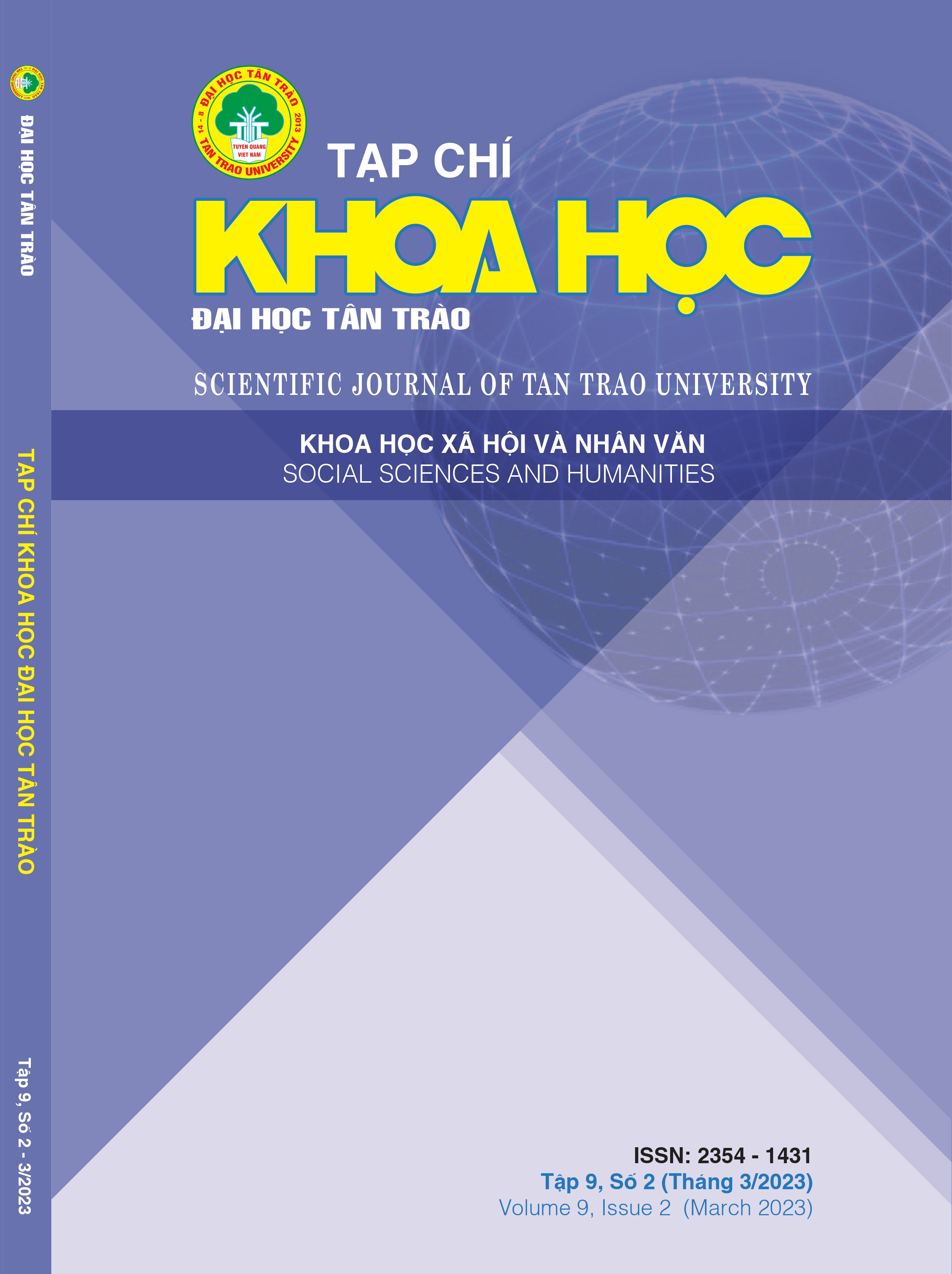 Downloads
How to Cite
Lê, H., Lê, H., & Quan, D. (2023). STUDY ON STEM EDUCATION MODELS AND ORIENTATION TEACHING IN ELEMENTARY. SCIENTIFIC JOURNAL OF TAN TRAO UNIVERSITY, 9(2). https://doi.org/10.51453/2354-1431/2023/912
Section
Humanities and Social Sciences
License
This work is licensed under a Creative Commons Attribution-ShareAlike 4.0 International License.
All articles published in SJTTU are licensed under a Creative Commons Attribution-ShareAlike 4.0 International (CC BY-SA) license. This means anyone is free to copy, transform, or redistribute articles for any lawful purpose in any medium, provided they give appropriate attribution to the original author(s) and SJTTU, link to the license, indicate if changes were made, and redistribute any derivative work under the same license.
Copyright on articles is retained by the respective author(s), without restrictions. A non-exclusive license is granted to SJTTU to publish the article and identify itself as its original publisher, along with the commercial right to include the article in a hardcopy issue for sale to libraries and individuals.
Although the conditions of the CC BY-SA license don't apply to authors (as the copyright holder of your article, you have no restrictions on your rights), by submitting to SJTTU, authors recognize the rights of readers, and must grant any third party the right to use their article to the extent provided by the license.