THE PREDICTIVE VALIDITY OF STANDARDISED TEST OF ENGLISH PROFICIENCY IN VIETNAM (VSTEP)
Keywords:
VSTEP, giá trị dự đoán, giảng dạy tiếng Anh; kiểm tra và đánh giá ngôn ngữ
Abstract
Trong lĩnh vực kiểm tra và đánh giá ngôn ngữ, giá trị dự đoán của bài kiểm tra có thể được coi là một trong những độ giá trị được thảo luận phổ biến nhất vì nó chủ yếu giải quyết câu hỏi về độ chính xác của bài kiểm tra như một yếu tố dự đoán kết quả học tập. Do đó, bài nghiên cứu này đánh giá tính giá trị dự đoán của bài kiểm tra đánh giá năng lực tiếng Anh (VSTEP)  theo Khung năng lực ngoại ngữ của Việt Nam nhằm xác định sự thành công học tập của học sinh thông qua việc tìm mối tương quan giữa điểm thi VSTEP với điểm trung bình năm học (CGPA). Kết quả chỉ ra rằng điểm VSTEP dường như không phải là yếu tố dự đoán thỏa đáng về thành tích học tập. Kết quả cũng cho  thấy chỉ có điểm thi môn đọc VSTEP Writing góp phần giá trị dự đoán thành công trong học tập của sinh viên. Nghiên cứu cũng đề cập đến một số khuyến nghị về việc sử dụng các bài kiểm tra ngôn ngữ .
Downloads
Download data is not yet available.
References
[1] Alavi, T. (2012). The Predictive Validity of Final English Exams as a Measure of Success in Iranian National University Entrance English Exam. Journal of Language Teaching and Research, Vol. 3, No. 1, pp. 224-228
[2] Alderson, J.C., C. Clapham & D. Wall. (1995). Language Test Construction and Evaluation. Cambridge: Cambridge University Press
[3] Bachman, L.F. & Palmer, A.S. (1996) Language Testing in Practice Designing and Developing Useful Language Tests. Oxford University Press, Oxford
[4] Canh, L.V., & Barnard, R. (2009). Curricular innovation behind closed classroom doors. Prospect, 24(2), 20–33.
[5] Chao, J. Y-G. (2013). Factors affecting college English Foreign Language learners' listening comprehension and listening problems. NCUE Journal of Humanities, 8, 71-84.
[6] Dimova, S. (2020). English language requirements for enrolment in EMI programs in higher education: A European case. Journal of English for Academic Purposes, 47, 100896. https://doi.org/10.1016/j.jeap.2020.100896
[7] Ghenghesh, P. (2015). The relationship between English language proficiency and academic performance of university students. International Journal of Applied Linguistics and English Literature, 4 (2), 91 - 97.
[8] Huang, S., Becky, H., Alison, L., Bailey, M., Daniel, A., & Yung-hsiang, S. (2021). An investigation of the validity of a speaking assessment for adolescent English language learners. Language Testing, 38(3), 401–428.
[9] Hu, X., & McGeown, S. (2020). Exploring the relationship between foreign language motivation and achievement among primary school students learning English in China. System, 89(1), 21-29. Https://doi.org/10.1016/j.system.2020.102199.
[10] Ministry of Education and Training. (2015). Document Application Guidelines Format of test questions to assess English proficiency from level 3 to level 5 according to the 6-level Foreign Language Competency Framework for Vietnam in developing exam questions and marking exams - Approved attached Decision No: 730/QD-BGDDT dated March 11, 2015 of the Minister of Education and Training. Hanoi.
[11] Ministry of Education and Training. (2017). Decision no. 2080/QD-TTG Approval of the Amendments and Supplements to the Scheme of Teaching and Learning Foreign Languages in the National Education System for the Period of 2017-2025. Hanoi.
[12] Rethinasamy, S., & Chuah, K. M. (2011). The Malaysian University English Test ( MUET ) and its use for placement purposes: A Predictive validity study. Electronic Journal of Foreign Language Teaching, 8 (2), 234–24.
[13] Shi, B., Huang, L., & Lu, X. (2020). Effect of prompt type on test-takers' writing performance and writing strategy use in the continuation task. Language Testing, 37(3), 361–388. Https://doi.org/10.1177/0265532220911626
[14] Salgado, J. F., & Moscoso, S. (2019). The validity of general mental ability for five performance criteria: Hunter and Hunter (1984) revisited. Frontiers in Psychology, 10(2), 22-27.
[15] Sim, F., Thompson, L., Louise, M., Nitish. R., & Wilson, P. (2019). Predictive validity of preschool screening tools for language and behavioural difficulties: A PRISMA systematic review . PLoS ONE, 14(2), 22-32. Https://doi.org/10.1371/journal.pone.0211409
[16] Teng, L. S., & Zhang, L. J. (2020). Empowering learners in the foreign language classroom: Can self-regulated learning strategies-based writing instruction make a difference?. Journal of Second Language Writing, 48(1), 123-134 .
[17] Wang, L., & Fan, J. (2020). Assessing Business English writing: The development and validation of a proficiency scale. Assessing Writing, 46(3), 78-85.
[18] Weir, C. J. (2005). Language testing and validation: An evidence-based approach. Basingstoke: Palgrave Macmillan.
[19] Van, H. V. (2007). The current situation and issues of the teaching of English in Vietnam. Teaching English to speakers of other languages in the internationalization of higher education in Vietnam. VNU Scientific Journal - Foreign Language, 3(4), 22-37. 3(4), 1-12.
[20] George, D., & Mallery, P. (2003). Statistical package for the social sciences for windows step by step: A simple guide and reference. 11.0 update (4th ed.). Boston, Massachusetts, U.S: Allyn & Bacon.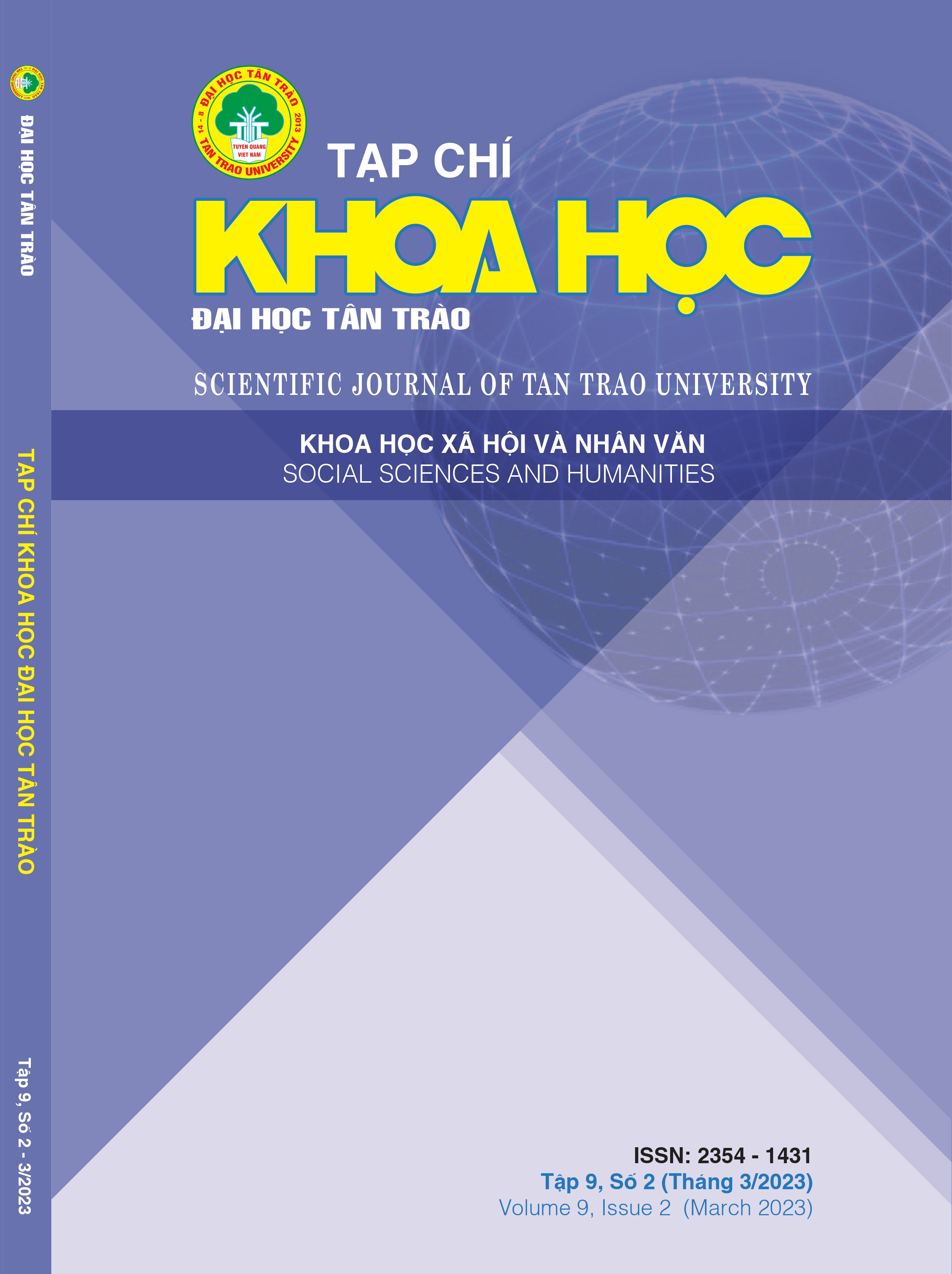 Downloads
How to Cite
Thiều, H. (2023). THE PREDICTIVE VALIDITY OF STANDARDISED TEST OF ENGLISH PROFICIENCY IN VIETNAM (VSTEP). SCIENTIFIC JOURNAL OF TAN TRAO UNIVERSITY, 9(2). https://doi.org/10.51453/2354-1431/2023/917
Section
Humanities and Social Sciences
License
This work is licensed under a Creative Commons Attribution-ShareAlike 4.0 International License.
All articles published in SJTTU are licensed under a Creative Commons Attribution-ShareAlike 4.0 International (CC BY-SA) license. This means anyone is free to copy, transform, or redistribute articles for any lawful purpose in any medium, provided they give appropriate attribution to the original author(s) and SJTTU, link to the license, indicate if changes were made, and redistribute any derivative work under the same license.
Copyright on articles is retained by the respective author(s), without restrictions. A non-exclusive license is granted to SJTTU to publish the article and identify itself as its original publisher, along with the commercial right to include the article in a hardcopy issue for sale to libraries and individuals.
Although the conditions of the CC BY-SA license don't apply to authors (as the copyright holder of your article, you have no restrictions on your rights), by submitting to SJTTU, authors recognize the rights of readers, and must grant any third party the right to use their article to the extent provided by the license.