Wrought iron decorations in architectural works in Hanoi from 1920 to 1945
Keywords:
Wrought iron decorations, Hanoi architecture during French colonial period, Indochinese architectural style.
Abstract
During the period of 1920 - 1945, under the initiation of French architects, among whom was Ernest Hébrard as the pioneer, the Indochinese architectural style began to emerge in Hanoi. In the architectural works with Indochinese style, the wrought iron decorations with origins in Western classical and Eastern traditional styles were combined flexibly and vividly. From here, wrought iron decorations with Vietnamese characteristics had the opportunity to flourish on architecture, becoming one of the main factors that make the uniqueness of this decorative art form.
Downloads
Download data is not yet available.
References
[1] Bao, T.Q., Dinh, N.V. (2012). Architecture and planning of Hanoi during the French colonial period. Construction Publisher, Hanoi.
[2] Bao, T.Q. (2009). Indochinese architectural style - the first discoveries in the direction of modernity and Vietnam traditions. Website of the Urban Planning and Development Association of Vietnam. https://ashui.com/mag/chuyenmuc/kien-truc/1379-phong-cach-kien-truc-dong-duong-nhung-tim-toi-dau-tien-theo-huong-hien-dai-va-dan-toc.html. Accessed on: 08/02/2023.
[3] Papin, P. (2014). History of Hanoi. World Publishers, Hanoi.
[4] Paul, V.T. (2022). Understanding and empathy for Abstract art. Fine art magazine. http://tapchimythuat.vn/my-thuat-the-gioi/hieu-va-suy-cam-ve-nghe-thuat-truu-tuong/. Accessed on: 06/02/2022.
[5] Starasta, L. (2004). The New Dictionary of Cultural Literacy (3rd edition). www.bartleby.com/59/: Bartleby.com 2002. Gratis Print 3rd edition published by Houghton Mifflin, Boston, MA. Reference Reviews. 18 (5): 16–17. Accessed on: 06/01/2022.
[6] Sinh, N.V. (2021). From the flow of Indochinese architectural style, pondering on a "Vietnam style". Architecture magazine, No 9 (2021): P: 29-33.
[7] The, T.H.Y. (2013). Old wrought iron pattern on the old street. World Publishers, Hanoi.
[8] Thanh, D.D. (2021). A representative of Vietnamese architects - Architect Nguyen Cao Luyen. The website of the Vietnam Architects Association. https://kienviet.net/2021/08/06/guong-mat-kts-viet-nam-kts-nguyen-cao-luyen/?related_post_from=245088, ngày đăng: 06/8/2021. Accessed on: 06/02/2022.
[9] Vienkientruc.vn. (2021). The first generation of Vietnamese architects. Architecture Institute. https://vienkientruc.vn/the-he-kien-truc-su-viet-nam-dau-tien/. Accessed on: 06/02/2022.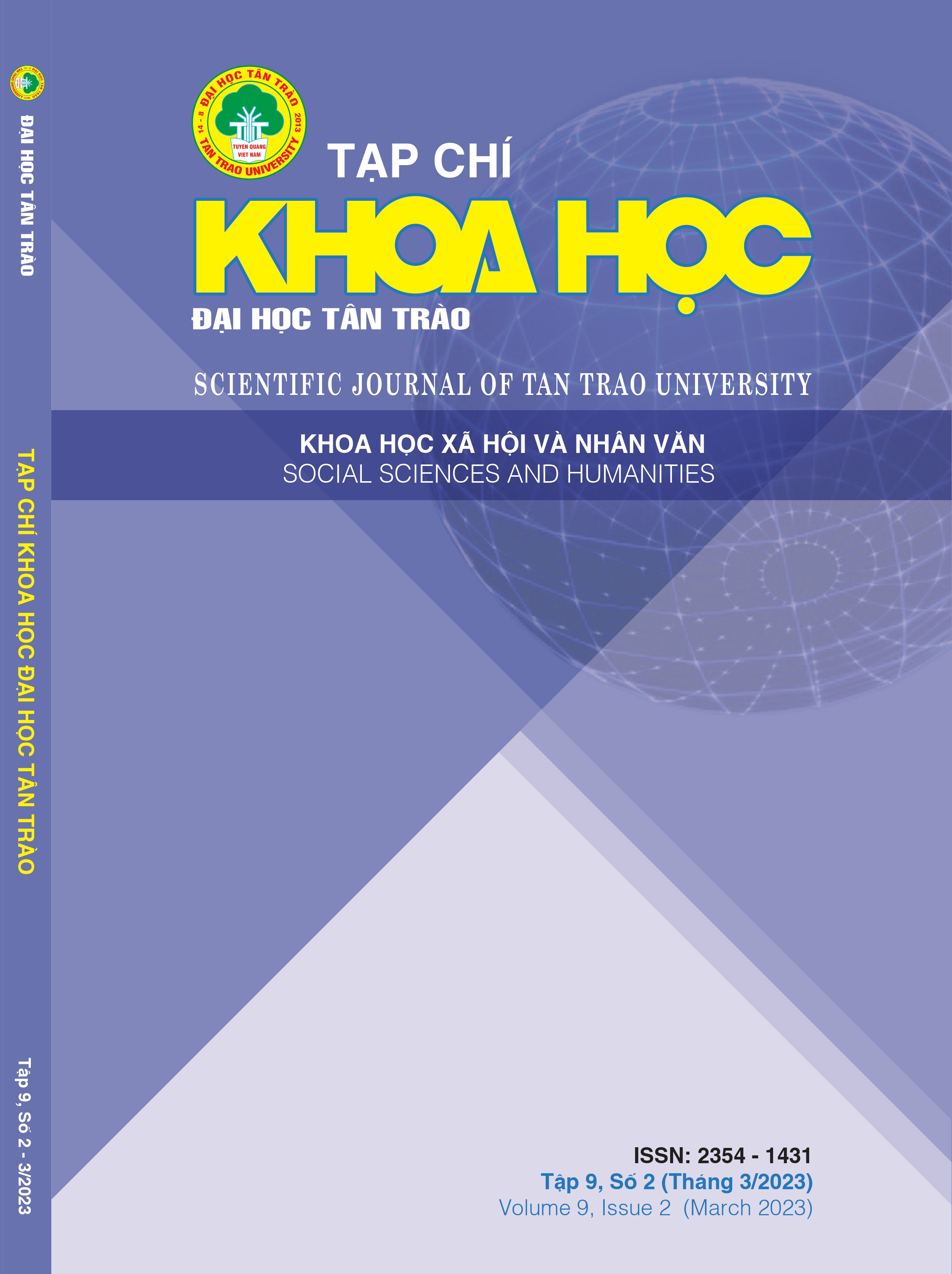 Downloads
How to Cite
Đinh, M. (2023). Wrought iron decorations in architectural works in Hanoi from 1920 to 1945. SCIENTIFIC JOURNAL OF TAN TRAO UNIVERSITY, 9(2). https://doi.org/10.51453/2354-1431/2023/918
Section
Humanities and Social Sciences
License
This work is licensed under a Creative Commons Attribution-ShareAlike 4.0 International License.
All articles published in SJTTU are licensed under a Creative Commons Attribution-ShareAlike 4.0 International (CC BY-SA) license. This means anyone is free to copy, transform, or redistribute articles for any lawful purpose in any medium, provided they give appropriate attribution to the original author(s) and SJTTU, link to the license, indicate if changes were made, and redistribute any derivative work under the same license.
Copyright on articles is retained by the respective author(s), without restrictions. A non-exclusive license is granted to SJTTU to publish the article and identify itself as its original publisher, along with the commercial right to include the article in a hardcopy issue for sale to libraries and individuals.
Although the conditions of the CC BY-SA license don't apply to authors (as the copyright holder of your article, you have no restrictions on your rights), by submitting to SJTTU, authors recognize the rights of readers, and must grant any third party the right to use their article to the extent provided by the license.