THE IMPLEMENTATION OF GAMES IN ENHANCING VOCABULARY FOR STUDENTS AT A PUBLIC UNIVERSITY
Keywords:
Games, vocabulary, English teaching
Abstract
In recent years, teaching English has become a compulsory subject at schools, colleges, and universities. That is the reason why teaching and learning English effectively play a crucial role in the development of educational system. However, students seem to be weak in communicative skills due to they are lack of English vocabulary knowledge. The aim of this paper is to seek out the evidence to prove that teaching games are very helpful in the language classroom because this method helps to improve and increase students' vocabularies. The results show that language games not only enhanced students' lexical knowledge but also made the lesson more enjoyable, students became motivated in learning English and had plenty of interactions with teachers and classmates. The study suggests that before employing games in the language classroom, teachers should choose appropriate materials, levels, contexts, topics, time allowance for games.
Downloads
Download data is not yet available.
References
[1] Bakhsh, S. G. A. (2017). Using games as a tool in teaching vocabulary to young. Learners English Language Teaching, 9 (7): 120-128.
[2] Chancons, R .(2010). Insight into non- native vocabulary teaching and learning, p.28-83 MPG books group ltd .Great Britain.
[3] Carter, R. (1998). Applied linguistic perspectives, London: Routledge
[4] Ernawati, J. (2009). Improving elementary school students' vocabulary mastery through language games (Unpublished master thesis). Sebelas Maret University. Indonesia.
[5] Guo, Y. (2008) .The role of vocabulary knowledge, syntactic awareness and metacognitive, p.3. Ann Arbor United State.
[6] Hedge, C .J. H., Ferris, D., R. (2009). Teaching readers of English: Students text and contexts, p.296. Routladge New York
[7] Hoang, T. T. (2000). The practice of English language teaching, Malaysia: Longman
[8] Huckin, T., Coady, J (1997). Second language vocabulary acquisition: A rational for pedagogy, pp .23 .31.Cambridge university press.
[9] Huyen, N. T. T., Nga T. T. K. ( 2003). Learning vocabulary through games. Asian EFL Journal, 5(4): 58-73.
[10] James, F.et.al. (2012). Vocabulary instructions second edition: Research to Practice: Guilford press.
[11] Maria, N. P. (2017). Using games to improve vocabulary knowledge of the 11th grade students of senior high school (Unpublished master thesis). University Yogyagkarta, Indonesia.
[12] LIach, M. P. (2011). Lexical errors and accuracy in foreign language writing, p.38 Mbc book group Great Britain.
[13] Lo'pez, M. D.(2010) .The treatment of lexical aspect in commercial textbooks for L2 teaching and learning in Chacon ,R et ,al Insight into non native vocabulary teaching and learning ,p.156- 161 MBG group Great Britain.
[14] Nation, P., Hirsh, D. (1992) .''What vocabulary size is needed to read unsimplified text for pleasure''. In Reading in foreign language , 8. (2): 689 -695.
Nation, ISP (1994) . New ways in teaching vocabulary. P. V Alexandria, V.
[15] Nation, P., Waring, R. (1997). Vocabulary size, text coverage and word lists in Schimtt, N. and Mc Carty, M. (2010). Vocabulary: description, acquisition and pedagogy, Cambridge University press, 8 - 10.
[16] Nation, I. S. P. (2001). Learning vocabulary in other in other language: Cambridge university press.
[17] Schmitt ,N., Jiang , X. (2011) The relation between percentage of vocabulary knowledge and level o comprehension, The modern language journal , 95(1): 26-23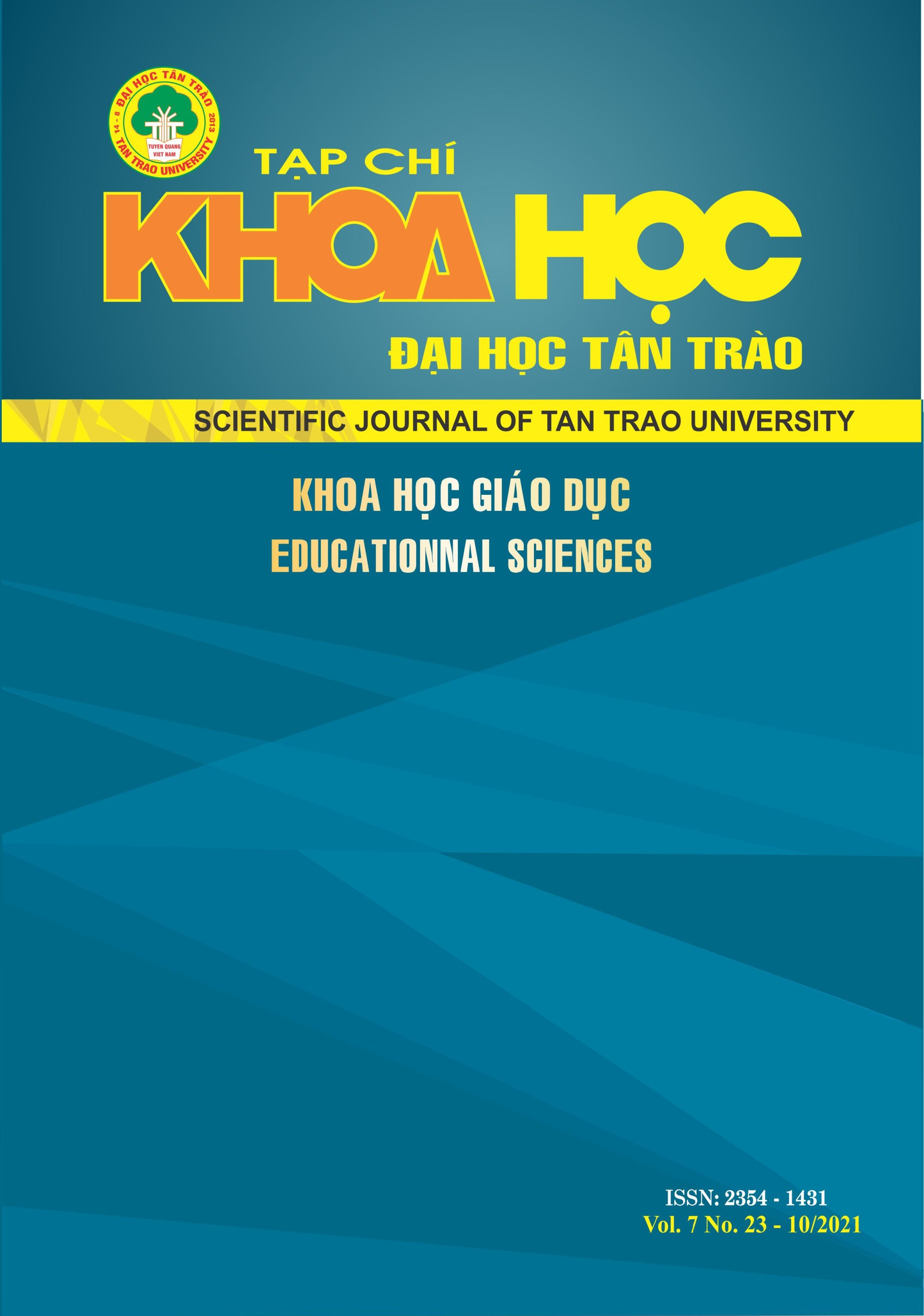 Downloads
How to Cite
Nong Thi, H. H. (2021). THE IMPLEMENTATION OF GAMES IN ENHANCING VOCABULARY FOR STUDENTS AT A PUBLIC UNIVERSITY. SCIENTIFIC JOURNAL OF TAN TRAO UNIVERSITY, 7(23). https://doi.org/10.51453/2354-1431/2021/491
Section
Humanities and Social Sciences
License
This work is licensed under a Creative Commons Attribution-ShareAlike 4.0 International License.
All articles published in SJTTU are licensed under a Creative Commons Attribution-ShareAlike 4.0 International (CC BY-SA) license. This means anyone is free to copy, transform, or redistribute articles for any lawful purpose in any medium, provided they give appropriate attribution to the original author(s) and SJTTU, link to the license, indicate if changes were made, and redistribute any derivative work under the same license.
Copyright on articles is retained by the respective author(s), without restrictions. A non-exclusive license is granted to SJTTU to publish the article and identify itself as its original publisher, along with the commercial right to include the article in a hardcopy issue for sale to libraries and individuals.
Although the conditions of the CC BY-SA license don't apply to authors (as the copyright holder of your article, you have no restrictions on your rights), by submitting to SJTTU, authors recognize the rights of readers, and must grant any third party the right to use their article to the extent provided by the license.