DESIGN THERMAL CAMERA NON-CONTACT
Keywords:
Thermal camera, Handheld thermal camera, Temperature, Infrared heat, Non-contact body temperature measurement
Abstract
Thermal cameras are useful devices that are used in many different situations, such as quality control, system maintenance, structural repair, security, medical, monitoring, treatment. and diagnose human health or to research and develop advanced technological components. It provides visual temperature information that cannot be perceived by the human senses. Products from the research results of the author group towards compact size, easy to handle, convenient to carry, low cost of implementation, monitoring range in the measuring area of the sensor eye up to 7 meters. , the monitoring temperature zone can be limited, the color displayed is equivalent to the temperature zone, and the resolution of the thermal pixels can also be adjusted simply through the buttons. With basic functions that can be used such as non-contact body temperature measurement, maintenance, maintenance, quality inspection and repair of electronic, electromechanical, telephone, chip, IC, over temperature detection. Electrical system lines, underground cables, recessed walls, utilities, gas leak detection, ventilation furnaces, fireplaces, etc., the device can be a useful and effective civil tool.
Downloads
Download data is not yet available.
References
[1] T&M technology services and equipment joint stock company, "Mechanical measurement equipment thermal camera", tm-tech, December 2021, [online] Available: http://tm-tech.vn/vn/camera-nhiet.html [Accessed April 20, 2022]
[2] A. Naser, A. Lotfi and J. Zhong, "Calibration of Low-Resolution Thermal Imaging for Human Monitoring Applications," in IEEE Sensors Letters, vol. 6, no. 3, pp. 1-4, March 2022, Art no. 7000904.
[3] Y. -C. Chen, J. -P. Su, C. -H. Tsai, M. -C. Chen, W. -J. Chang and W. -J. Wu, "iVoiding: A Thermal-Image based Artificial Intelligence Dynamic Voiding Detection System," 2022 International Conference on Artificial Intelligence in Information and Communication (ICAIIC), 2022, pp. 027-029.
[4] C. Song and S. Lee, "Accurate Non-Contact Body Temperature Measurement with Thermal Camera under Varying Environment Conditions," 2022 16th International Conference on Ubiquitous Information Management and Communication (IMCOM), 2022, pp. 1-6.
[5] S. Durgapurohit, J. Granthi, S. Daware, V. Dange, M. Mhetre and A. Kadu, "Real Time Electric Hazard Detection System Using Thermal Imaging," 2022 4th International Conference on Smart Systems and Inventive Technology (ICSSIT), 2022, pp. 624-629.
[6] R. R. Yakkati, S. R. Yeduri and L. R. Cenkeramaddi, "Hand Gesture Classification Using Grayscale Thermal Images and Convolutional Neural Network," 2021 IEEE International Symposium on Smart Electronic Systems (iSES), 2021, pp. 111-116.
[7] K. -T. Hsu, B. -S. Wang, C. -H. Lin, B. -Y. Wang and W. -P. Chen, "Development of Mountable Infrared-Thermal Image Detector for Safety Hamlet," 2021 International Conference on Electronic Communications, Internet of Things and Big Data (ICEIB), 2021, pp. 105-109.
[8] Electropeak, "Oled 0.95 inch I2C", OLED Display Datasheet, 2020.
[9] Panasonic, "AMG8833 Sensor", Infrared Array Sensor Grid-EYE, 2020.
[10] Lampiran, "Arduno nano R3", Arduino Nano Technical Specifications, 2020.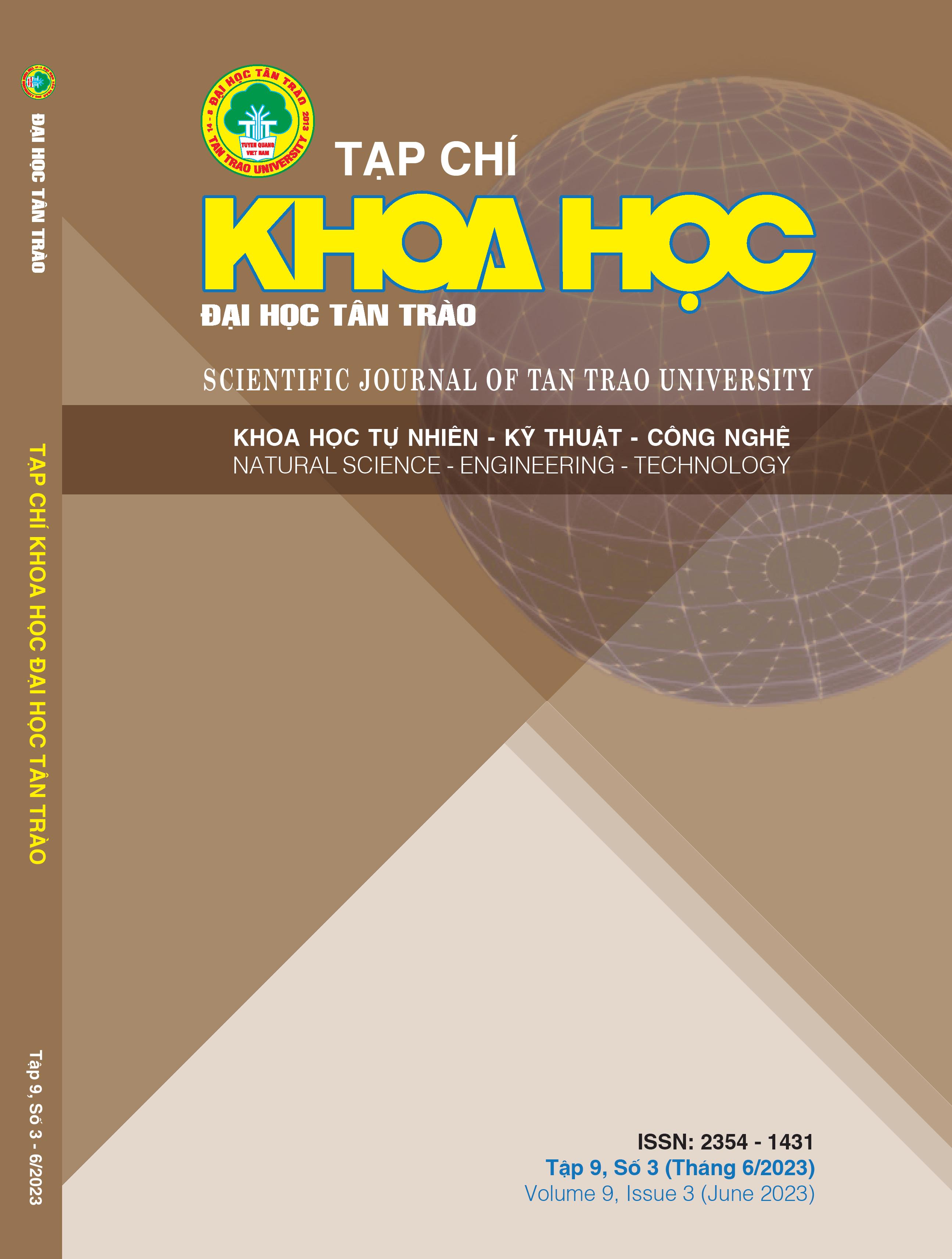 Downloads
How to Cite
Phạm, N., Vũ, N., & Đỗ, L. (2023). DESIGN THERMAL CAMERA NON-CONTACT. SCIENTIFIC JOURNAL OF TAN TRAO UNIVERSITY, 9(3). https://doi.org/10.51453/2354-1431/2023/966
Section
Natural Science and Technology
License
This work is licensed under a Creative Commons Attribution-ShareAlike 4.0 International License.
All articles published in SJTTU are licensed under a Creative Commons Attribution-ShareAlike 4.0 International (CC BY-SA) license. This means anyone is free to copy, transform, or redistribute articles for any lawful purpose in any medium, provided they give appropriate attribution to the original author(s) and SJTTU, link to the license, indicate if changes were made, and redistribute any derivative work under the same license.
Copyright on articles is retained by the respective author(s), without restrictions. A non-exclusive license is granted to SJTTU to publish the article and identify itself as its original publisher, along with the commercial right to include the article in a hardcopy issue for sale to libraries and individuals.
Although the conditions of the CC BY-SA license don't apply to authors (as the copyright holder of your article, you have no restrictions on your rights), by submitting to SJTTU, authors recognize the rights of readers, and must grant any third party the right to use their article to the extent provided by the license.