THE EFFECT OF PERCEIVED RISK ON INTENTION TO USE MOBILE BANKING IN HANOI
Keywords:
Mobile Banking Perceived Risk Intention to use.
Abstract
As banking services become more and more developed, customers demand a new form of convenient experience that can satisfy the need to pay at any time without using cash. With the advancement of technology and telecommunications, the commercial banks continuously develop Mobile Banking (mobile banking service) to meet the market's needs. However, in the process of using Mobile Banking, customers encounter technology and non-technological problems. In the face of the increase in crimes in the online environment, users are more cautious and hardly trust Mobile Banking services. Because of the above reasons, the research focuses on analyzing the factors affecting the intention to use Mobile Banking service based on the theory of technology acceptance model and the theory of perceived risk. Valid data were collected from 512 people in Hanoi city to test the proposed model. The study uses the linear structural modeling method to identify the influence of perceived risk factors (including: privacy risk, financial risk, psychological risk, time risk, operational risk) on perceived usefulness and intention to use Mobile Banking, and studies the effect of perceived usefulness on intention to use Mobile Banking. Based on the research results, the article proposes some comments and recommendations to promote the enhancement of Mobile Banking
Downloads
Download data is not yet available.
References
[1] Statista (2022b), Number of users of digital payments in Vietnam from 2017 to 2025, from<https://www.statista.com/forecasts/1228387/digital-payment-users-by-segment-vietnam>
[2] Le, X.C. (2021), 'The diffusion of mobile QR-code payment: An empirical evaluation for a pandemic', Asia-Pacific Journal of Business Administration, doi: https://doi.org/10.1108/APJBA-07-2021-0329
[3] Reepu, Rakhi Arora (2022). The Effect of Perceived Risk on Intention to Use Online Banking. Universal Journal of Accounting and Finance, 10(1), 62-71. DOI: 10.13189/ujaf.2022.100107.
[4] Ngo Duc Chien (2022), Factors affecting customers' decision to use mobile banking services at commercial banks in Da Nang city, Thai Nguyen University Journal of Science and Technology, 17(2022), (208-217)
[5] Ha Nam Khanh Giao, Tran Kim Chau, Factors affecting the decision to use smart banking services at Joint Stock Commercial Bank for Investment and Development of Vietnam- Saigon North Branch (BIDV BSG), Journal Banking Science & Training No. 220- September 2020
[6] Nguyen Thuong Lang, Impact of perceived risk and belief on the intention to use mobile money (Mobile Money) of Hanoi consumers, Economic and Forecast Journal No. 18, June 2021
[7] Davis, F.D., Bagozzi, R.P. and Warshaw, P.R. (1989), "User acceptance of computer technology: a comparison of two theoretical models", Management Science, Vol. 35 No. 8, pp. 982-1003.
[8] Taylor, S., & Todd, P. A. (1995), 'Understanding information technology usage: a test of competing models', Information Systems Research, 6 (2), 144-176.
[9] Davis, F. D. (1985), 'A technology acceptance model for empirically testing new end-user information systems: Theory and results', Doctoral dissertation, Massachusetts Institute of Technology, USA.
[10] Bauer, R.A. (1960), 'Consumer Behavior as Risk Taking', in Dynamic Marketing for a Changing World, R. S. Hancock. (Eds.), American Marketing Association, Chicago, 389-398.
[11] Taylor, J.W. (1974), 'The role of risk in consumer behavior', Journal of Marketing, 38 (2), 54-60.
[12] Chen, C. (2013), 'Perceived risk, usage frequency of mobile banking services', Managing Service Quality, 23 (5), 410–436, DOI:10.1108/MSQ-10-2012-0137.
[13] Laforet, S. and Li, X. (2005), 'Consumers' attitudes towards online and mobile banking in China', International Journal of Bank Marketing, 23 (5), 362–380, DOI:10.1108/02652320510629250.
[14] Lee, M-C. (2009), 'Factors influencing the adoption of internet banking: an integration of TAM and TPB with perceived risk and perceived benefit', Electronic Commerce Research and Applications, 8 (3), 130–141, DOI:10.1016/j.elerap.2008.11.006.
[15] Dasgupta, S., Paul, R. and Fuloria, S. (2011), 'Factors affecting behavioral intentions towards mobile banking usage: empirical evidence from India', Romanian Journal of Marketing, 3 (1), 6–28.
[16] Rogers, E. M. (1995). Diffusion of Innovations: modifications of a model for telecommunications. In Die diffusion von innovationen in der telekommunikation (pp. 25–38). Springer. DOI:10.1007/978-3-642-79868-9_2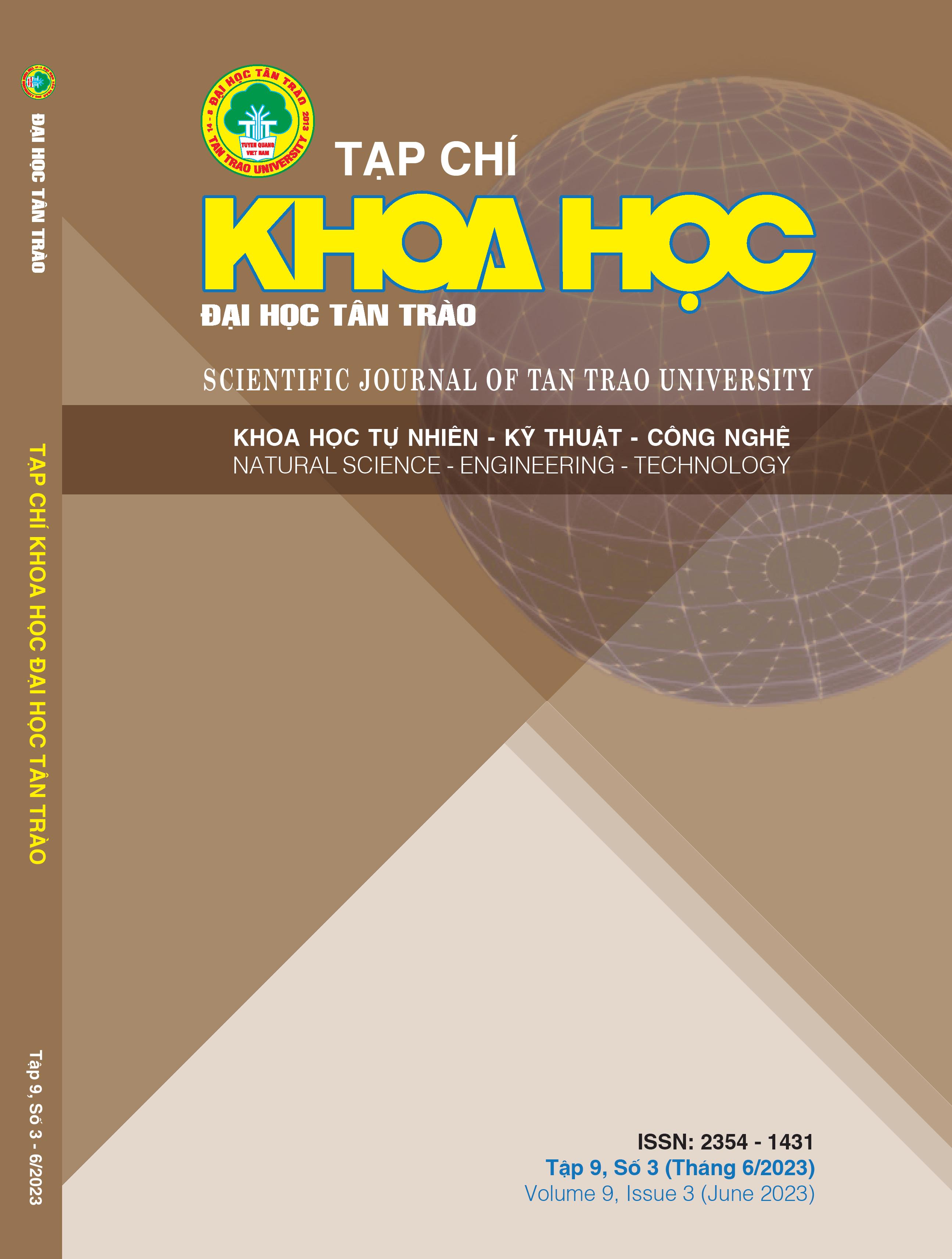 Downloads
How to Cite
Nguyễn, Y., Nguyễn, H., Lê, A., & Vũ, D. (2023). THE EFFECT OF PERCEIVED RISK ON INTENTION TO USE MOBILE BANKING IN HANOI. SCIENTIFIC JOURNAL OF TAN TRAO UNIVERSITY, 9(3). https://doi.org/10.51453/2354-1431/2023/977
Section
Natural Science and Technology
License
This work is licensed under a Creative Commons Attribution-ShareAlike 4.0 International License.
All articles published in SJTTU are licensed under a Creative Commons Attribution-ShareAlike 4.0 International (CC BY-SA) license. This means anyone is free to copy, transform, or redistribute articles for any lawful purpose in any medium, provided they give appropriate attribution to the original author(s) and SJTTU, link to the license, indicate if changes were made, and redistribute any derivative work under the same license.
Copyright on articles is retained by the respective author(s), without restrictions. A non-exclusive license is granted to SJTTU to publish the article and identify itself as its original publisher, along with the commercial right to include the article in a hardcopy issue for sale to libraries and individuals.
Although the conditions of the CC BY-SA license don't apply to authors (as the copyright holder of your article, you have no restrictions on your rights), by submitting to SJTTU, authors recognize the rights of readers, and must grant any third party the right to use their article to the extent provided by the license.