EFFECTS OF PHYSIOLOGICAL MATURITY ON THE QUALITY OF SOFT DRIED BAC KAN'S TAY BANANA
Abstract
Determining the appropriate physiological maturity for soft dried whole fruit of Bac Kan's Tay banana helps the dried banana to be of good quality. The study was carried out on Tay bananas in Bac Kan at 3 different physiological maturity at 6, 7 and 8 following Anthony Keith Thompson & et.al,. Raw bananas, after removing their peels and pretreating, were soaked in 1% NaCl solution in 15 minutes. The bananas are then dried at 90°C for 2 hours, then dried at 60° C for 23 hours. Initial research shows that at different maturities, the quality of the quality index of different soft- dried bananas, in which at maturity 8 induced 67.4oBx soluble solids content, total sugar content 54.6%, vitamin C 16.1% was higher and significantly different at α = 0.05 comapred with the corresponding indicators at physiological maturities of 6 and 7 and the overall acceptance was 18.4 points, ranking good. Thus, Bac Kan's Tay banana with physiological maturity 8 is the most suitable for soft-dried banana product.
Downloads
Download data is not yet available.
References
[1] Thompson, A. K., Supapvanich, S., Sirison, J. (2019). Banana ripening science and technology. Springer Briefs in Food, Health, and Nutrition.
[2] Dung, N. H. (2005). Practical textbook on sensory evaluation. Publishing House of Ho Chi Minh City University of Technology, Vietnam.
[3] Chung, T. T., Phuong, P. B., Luong, T. T., Son, L. H., Chi, T. V., Hoa, D. T. K., Lam, V. D. (2020). Studying the effect of harvesting maturity on the quality of Bac Kan's tay banana fruit after ripening applied exogenous ethelene. Scientific Journal of Tan Trao University, 6 (17):13-19, doi: 10.51453/2354-1431/2020/373.
[4] Decision No. 2732-QD-UBND dated December 31, 2019 of the People's Committee of Bac Kan province approving the project to restructure the agricultural sector in Bac Kan province towards enhancing added value and development sustainable period 2020 - 2025, vision to 2035.
https://thuvienphapluat.vn/van-ban/thuong-mai/Quyet-dinh-2732-QD-UBND-2019-Co-cau- lai-nganh-nong-nghiep-nang-cao-gia-tri-gia-tang-tinh-Bac-Kan-435380.aspx
[5] Decision No. 263/QD-UBND dated February 25, 2021 of the People's Committee of Bac Kan province approving the strategic investment plan to develop Tay banana value chain in Bac Kan province in the period of 2021-2023. https://thuvienphapluat.vn/van-ban/Thuong-mai/Quyet-dinh-263-QD-UBND-2021-Ke-hoach-dau-tu-chien-luoc-phat-trien-chuoi- Gia-tri-chuoi-tay-Bac-Kan-473656.aspx.
[6] Thu, V. T., Tien, D. H., Gam, D. T., Khoa, G. T. (2001). Compounds in tea and some common analytical methods in tea production in Vietnam. Hanoi Publishing House. 72-110.
[7] National standard. (1988). TCVN4594:88. Method for determination of total sugar, reducing sugar and starch, Vietnam Standard
https://luattrongtay.vn/ViewFullText/Id/6817c48a-f360-414b-8b04-a6e745e437c3.
[8] Industry standard 10. (2001). TCVN 482:2001. Vanbanphapluat, Dried Banana Industry Standard, Ministry of Agriculture and Rural Development.
https://vanbanphapluat.co/10-tcn-482-2001-chuoi-say.
[9] National standard. (1988). TCVN 4589:1988. Canned food - Method for determining total and volatile acids, Vietnam Standard. https://vanbanphapluat.co/tieu-chuan-viet-nam-tcvn-4589-1988-do-hop -phuong-phap-xac-dinh-ham-luong.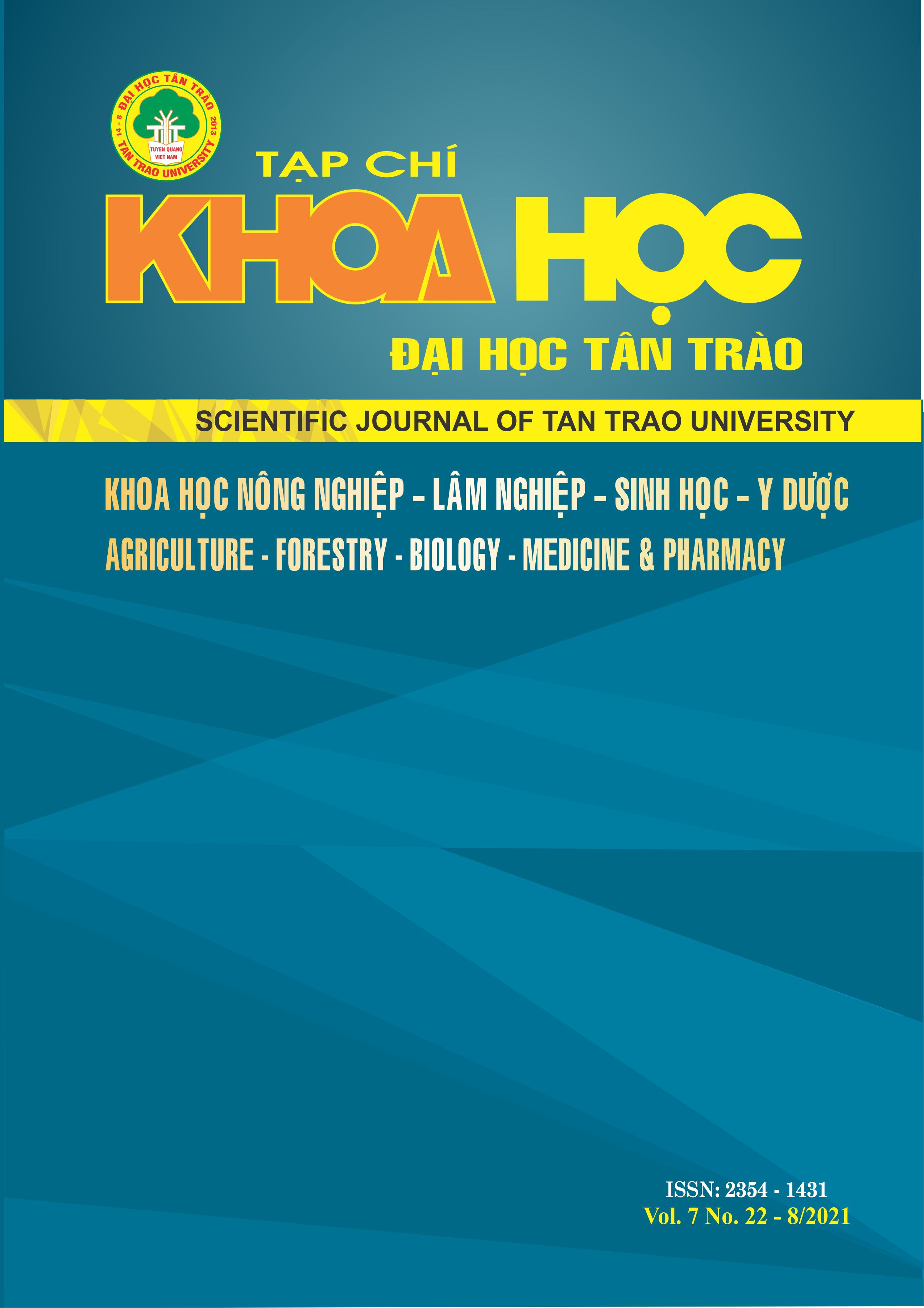 Downloads
How to Cite
Trịnh Thị, C., Phạm Bằng, P., Cao Thị, D., Đỗ Thị, H., Trần Thị, T. T., Ngô Mỹ, H., Nguyễn Văn, B., & Lưu Hồng, S. (2021). EFFECTS OF PHYSIOLOGICAL MATURITY ON THE QUALITY OF SOFT DRIED BAC KAN'S TAY BANANA . SCIENTIFIC JOURNAL OF TAN TRAO UNIVERSITY, 7(22). https://doi.org/10.51453/2354-1431/2021/540
Section
Natural Science and Technology
License
This work is licensed under a Creative Commons Attribution-ShareAlike 4.0 International License.
All articles published in SJTTU are licensed under a Creative Commons Attribution-ShareAlike 4.0 International (CC BY-SA) license. This means anyone is free to copy, transform, or redistribute articles for any lawful purpose in any medium, provided they give appropriate attribution to the original author(s) and SJTTU, link to the license, indicate if changes were made, and redistribute any derivative work under the same license.
Copyright on articles is retained by the respective author(s), without restrictions. A non-exclusive license is granted to SJTTU to publish the article and identify itself as its original publisher, along with the commercial right to include the article in a hardcopy issue for sale to libraries and individuals.
Although the conditions of the CC BY-SA license don't apply to authors (as the copyright holder of your article, you have no restrictions on your rights), by submitting to SJTTU, authors recognize the rights of readers, and must grant any third party the right to use their article to the extent provided by the license.