USING READING SUB-SKILLS TO IMPROVE THE NON-MAJOR FRESHMEN'S ABILITY OF INDEPENDENT READING CỎMPREHENSION AT TAN TRAO UNIVERSITY
Keywords:
strategies; learning process; perspectives; flipped learning method; perception
Abstract
Based on the current educational perspective, the main goal of learning English is to form and develop the essential knowledge and skills of English and the necessary intellectual qualities to help students improve or apply to life (Dang Thi Lan (2009), [1]. Therefore, all new English books are compiled according to the current educational program, based on the criteria of promoting active learning methods, focusing on developing all four skills: listening, speaking, reading and writing in each lesson.
 However, through practical teaching, it has been shown that the English reading comprehension ability of the first-year students is still limited, not actively grasping the primary information of the text, not understanding all the implications of the reading, leading to the birth of students. Students learn reading comprehension skills that are not effective. Besides, in reading comprehension iiilessons, iiiteachers iiistill iiiface iiimany iiidifficulties iiibecause iiithey iiihave iiinot iiifully iiimastered iiithe iiitricks iiiof iiiteaching iiireading iiicomprehension. iiiIn iiithis iiistudy, iiithe iiiauthor iiihopes iiito iiipartly iiihelp iiistudents iiiovercome iiicommon iiichallenges iiito iiipractice iiiEnglish iiireading iiicomprehension iiiskills iiimore iiieffectively, iiisuch iiias iiireading iiicomprehension iiitexts iiiand iiireading iiicomprehension iiiexercises iiiwith iiisuccessful iiiresults. iiiHigh... iiiFrom iiithere, iiitake iiithe iiiinitiative iiiin iiiabsorbing iiiand iiiperceiving iiithe iiilesson's iiiknowledge.
Downloads
Download data is not yet available.
References
[1] Lan, D.T. (2009), evel of adaptability to the study of some general subjects and reading comprehension of foreign languages of students at the University of Foreign Languages - Vietnam National University, Hanoi, PhD Thesis in Psychology, Hanoi National University of Education.
[2] Martha J. Maxwel (1972). Skimming and Scanning improvement: The needs, asuptions and knowledge base. Journal of Reading Behavior 1972-73 * Vol. 5, No. 1, Winter.
[3] Abdul (2019) The use of Skimming and scanning techniques in reading comprehension for toefl. Faculty of education and teacher training ar-rainy state Islamic university Darussalam-Bandaaceh.
[4] Anderson, R.C. (1996) "Research foundations to support wide reading" in Promoting Reading in Developing Countries Press, Newark: International Reading Association.
[5] Anderson, R.C. and Pearson, P.D. (1984), A Schema-Theoretic View of Basic Processes in Reading Comprehension, in Carrell, P.L., Devine, J. and Eskey, D.E (1988) Interactive Approaches to Second Language Reading. Cambridge University Press.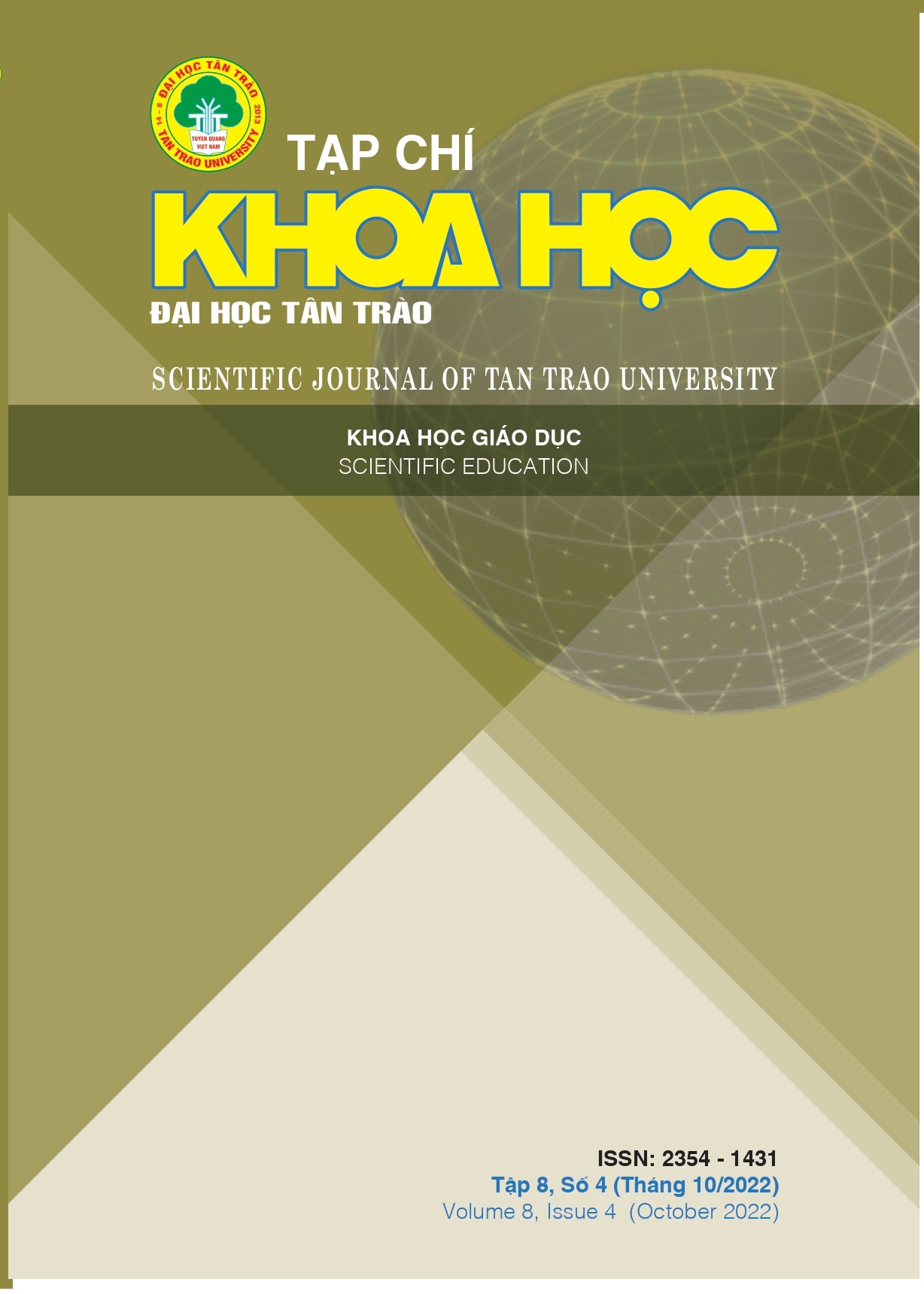 Downloads
How to Cite
Nguyen, D., & Ta, H. (2023). USING READING SUB-SKILLS TO IMPROVE THE NON-MAJOR FRESHMEN'S ABILITY OF INDEPENDENT READING CỎMPREHENSION AT TAN TRAO UNIVERSITY. SCIENTIFIC JOURNAL OF TAN TRAO UNIVERSITY, 8(4). https://doi.org/10.51453/2354-1431/2022/833
Section
Humanities and Social Sciences
License
This work is licensed under a Creative Commons Attribution-ShareAlike 4.0 International License.
All articles published in SJTTU are licensed under a Creative Commons Attribution-ShareAlike 4.0 International (CC BY-SA) license. This means anyone is free to copy, transform, or redistribute articles for any lawful purpose in any medium, provided they give appropriate attribution to the original author(s) and SJTTU, link to the license, indicate if changes were made, and redistribute any derivative work under the same license.
Copyright on articles is retained by the respective author(s), without restrictions. A non-exclusive license is granted to SJTTU to publish the article and identify itself as its original publisher, along with the commercial right to include the article in a hardcopy issue for sale to libraries and individuals.
Although the conditions of the CC BY-SA license don't apply to authors (as the copyright holder of your article, you have no restrictions on your rights), by submitting to SJTTU, authors recognize the rights of readers, and must grant any third party the right to use their article to the extent provided by the license.