EVALUATING LEGAL ENGLISH MAJOR FRESHMEN'S PERSPECTIVES TOWARDS LISTENING STRATEGIES THROUGH FLIPPED LEARNING MODEL
Keywords:
strategies; learning process; perspectives; flipped learning method; perception
Abstract
Listening skill plays an important role in students' learning process and in the communication process. With effective listening strategies, students would have better chance to improve their listening comprehension. Accordingly, this study aims to explore first year legal English-major students' tendency in using listening strategies, the problems that they encounter during the process, and students' feelings regarding the implementation of flipped learning method. By applying the quantitative method, a questionnaire survey was executed during a seven-day period. Due to the outbreak of the Covid-19 pandemic, the survey was conducted online with the participation of 77 respondents. Findings show that listening strategies are employed with high frequency by first year legal English-major students at HLU. Moreover, results indicate that students still encounter difficulties upon implementing listening strategies and they are willing to study listening skill through flipped learning method. The study illustrates HLU English-major students' tendency and perception of legal English listening learning strategies during Covid-19 pandemic at HLU.
Downloads
Download data is not yet available.
References
[1]. Krashen, S. D., Terrell, T. D., Ehrman, M. E., & Herzog, M. (1984). A theoretical basis for teaching the receptive skills. Foreign Language Annals, 17(4), 261–275. https://doi.org/10.1111/j.1944-9720.1984. tb03226.x
[2]. Handayani, D. N. (2009). The problems of learning English at SMPN 9 Malang. [Unpublished thesis]. State University of Malang
[3]. Zappe, S., Leicht, R., Messner, J., Litzinger, T., & Lee, H. W. (2009). "Flipping" the classroom to explore active learning in a large undergraduate course. ASEE Annual Conference and Exposition, Conference Proceedings. https://peer.asee.org/flippingthe-classroom-to-explore- ctive-learning-in-a-largeundergraduate-course.pdf
[4]. Milman, N. B. (2012). The Flipped Classroom Strategy: What Is it and How Can it Best Be Used? Distance Learning, 9(3), 85-87. https://www.proquest. com/openview/616e91b3df376d82fd5d30c598c665f3/ 1?pq-origsite=gscholar%26cbl=29704
[5]. Bishop, J., & Verlager, M. A. (2013). The flipped class-room: a survey of the research. Paper presented at 120th ASEE Annual Conference & Exposition, Atlanta, USA. 23-26th June, 2013. http://www.asee.org/public/ conferences/20/papers/6219/view
[6]. The effect of flipped classroom strategy on listening comprehension of undergraduate students at English Department in IAIN Batusangkar. Advances in Social Science, Education and Humanities Research, 335, 316-321. https://doi.org/10.2991/ icesshum-19.2019.51
[7]. White, G. (2008). Teaching listening: Time for a change in methodology. In E. Usó-Juan & A. MartínezFlor (Ed.), Current Trends in the Development and Teaching of the four Language Skills (pp. 111-138). Berlin, New York: De Gruyter Mouton. https://doi. org/10.1515/9783110197778.2.111
[8]. Oxford, R., & Nyikos, M. (1989). Variables affecting choice of language learning strategies by university students. Modern Language Journal, 73(3), 291-300. https://doi.org/10.1111/j.1540-4781.1989. tb06367.x
[9]. Vandergrift, L., Goh, C., Mareschal, C., & Tafaghodtari, M. (2006). The Metacognitive Awareness Listening Questionnaire (MALQ): Development and Validation. Language Learning, 56, 431-462. http:// dx.doi.org/10.1111/j.1467-9922.2006.00373.x
[10]. Duy, V. H., & Quan, N. H. (2021). Vietnamese English-majored students' use of listening strategies. European Journal of English Language Teaching, 6(6), 116-142. https://doi.org/10.46827/ejel. v6i6.3955
[11]. Nguyen, T. (2017). Implementation of English flipped classrooms: Students' perceptions and teacher's reflection. International Journal of Research Studies in Language Learning, 7(3), 87-108. https://doi. org/10.5861/ijrsll.2017.18763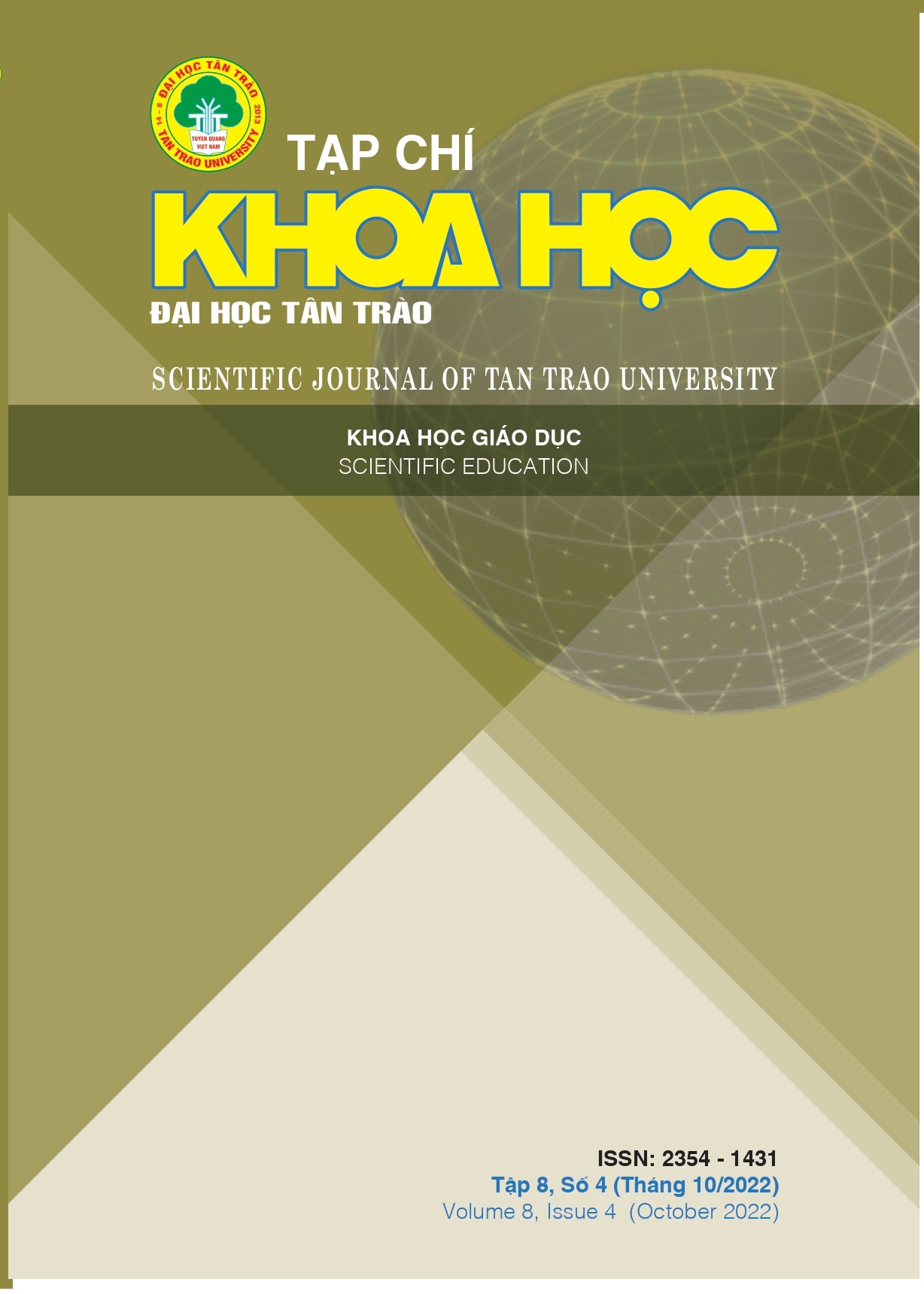 Downloads
How to Cite
Duong, L., & Vu, T. (2023). EVALUATING LEGAL ENGLISH MAJOR FRESHMEN'S PERSPECTIVES TOWARDS LISTENING STRATEGIES THROUGH FLIPPED LEARNING MODEL. SCIENTIFIC JOURNAL OF TAN TRAO UNIVERSITY, 8(4). https://doi.org/10.51453/2354-1431/2022/776
Section
Humanities and Social Sciences
License
This work is licensed under a Creative Commons Attribution-ShareAlike 4.0 International License.
All articles published in SJTTU are licensed under a Creative Commons Attribution-ShareAlike 4.0 International (CC BY-SA) license. This means anyone is free to copy, transform, or redistribute articles for any lawful purpose in any medium, provided they give appropriate attribution to the original author(s) and SJTTU, link to the license, indicate if changes were made, and redistribute any derivative work under the same license.
Copyright on articles is retained by the respective author(s), without restrictions. A non-exclusive license is granted to SJTTU to publish the article and identify itself as its original publisher, along with the commercial right to include the article in a hardcopy issue for sale to libraries and individuals.
Although the conditions of the CC BY-SA license don't apply to authors (as the copyright holder of your article, you have no restrictions on your rights), by submitting to SJTTU, authors recognize the rights of readers, and must grant any third party the right to use their article to the extent provided by the license.