STRATEGIES FOR DEVELOPING ENGLISH SPEAKING SKILLS OF FIRST-YEAR ENGLISH MAJOR STUDENTS AT A HIGHER EDUCATION INSTITUTION
Keywords:
strategies; English major students; higher education institution; pedagogical practices; primary mode of international communication
Abstract
English speaking skills are considered the most important necessity to master because of the primary mode of international communication. The majority of learners find it challenging to be fluent in these skills due to ineffective strategies. This study investigated the English-speaking strategies employed by first-year English major students at Hanoi Law University in the 2nd term of the academic year 2021-2022. The study used a descriptive quantitative method with a researcher-made questionnaire for 68 respondents via the active Google link. The results revealed that students did not identify effective strategies for improving their speaking skills. They should be equipped with advanced strategies involving how to improve their speaking skills effectively. This study would help school administrators adjust their program objectives and teaching outcomes to amend their existing programs, teachers change their pedagogical practices, and suggest to students some efficient English-speaking strategies.
Downloads
Download data is not yet available.
References
REFERENCES
/[1]. Zare, P. (2012). Language learning strategies among EFL/ESL learners: A review of literature. International Journal of Humanities and Social Science, 2(5), 162-169. http://www.ijhssnet.com/journals/Vol_2_No_5_March_2012/20.pdf
/[2]. Szmigiera, M. (Mar 30th, 2021). The most spoken languages worldwide 2021. https://www.statista.com/statistics/266808/the-most-spoken-languages-worldwide/ 1975
/[3]. Nurdin, I., Fidyati, F., Kumalasari, D., & Rasyimah, R. (2018). The overview of motivational theories in second language acquisition. Proceedings of The 8th Annual International Conference (AIC) on Social Sciences, Syiah Kuala University 2018 September 12-14, 2018, Banda Aceh, Indonesia, 292–298. http://www.jurnal.unsyiah.ac.id/AICS-Social/article/download/12689/9795
/[4]. Marmoah, S. (2017). The strategies of English lectures' in teaching speaking. Journal of Research in English Language Teaching, 1(1), 23-37. https://jrelt.ftk.uinjambi.ac.id/index.php/jrelt/article/view/5/3
/[5]. Heriansyah, H. (2012). Speaking problems faced by the English Department students of Syiah Kuala University. Lingua Didaktika, 6(1), 37-44. https://doi.org/10.24036/ld.v6i1.7398
/[6]. Dang, T. T. (2010). Learner autonomy in EFL studies in Vietnam: A discussion from sociocultural perspective. English Language Teaching, 3(2), 3-9. https://doi.org/10.5539/elt.v3n2p3
/[7]. Oxford, R. L. (1990). Language learning strategies: What every teacher should know. New York: Newbury House
/[8]. Cabaysa, C. C., & Baetiong, L. R. (2010). Language learning strategies of students at different levels of speaking proficiency. Education Quarterly, 68(1), 16-35. https://journals.upd.edu.ph/index.php/edq/article/view/2131
/[9]. O'Malley, J. M., & Chamot, A. U. (1990). Learning Strategies in Second Language Acquisition. Cambridge: Cambridge University Press. http://dx.doi.org/10.1017/CBO9781139524490
/[10]. Dornyei, Z., & Taguchi, T. (2010). Questionnaires in Second Language Research: Construction, Administration and Processing (2nd ed.). New York: Routledge. https://www.english-efl.com/wp-content/uploads/2020/12/questionnaires-in-second-language-research.pdf
/[11]. Brown, H. D. (2000). Principles of Language Learning and Teaching (4th Ed.). New York: Addison Wesley Longman, Inc.
/[12]. Brown, P., & Scase, R. (1994). Higher education and corporate realities: Class, culture and the decline of graduate careers. Routledge.
/[13]. Benson. P (2001). Teaching and Researching Autonomy in Language Learning. Harlow: Pearson Education Limited.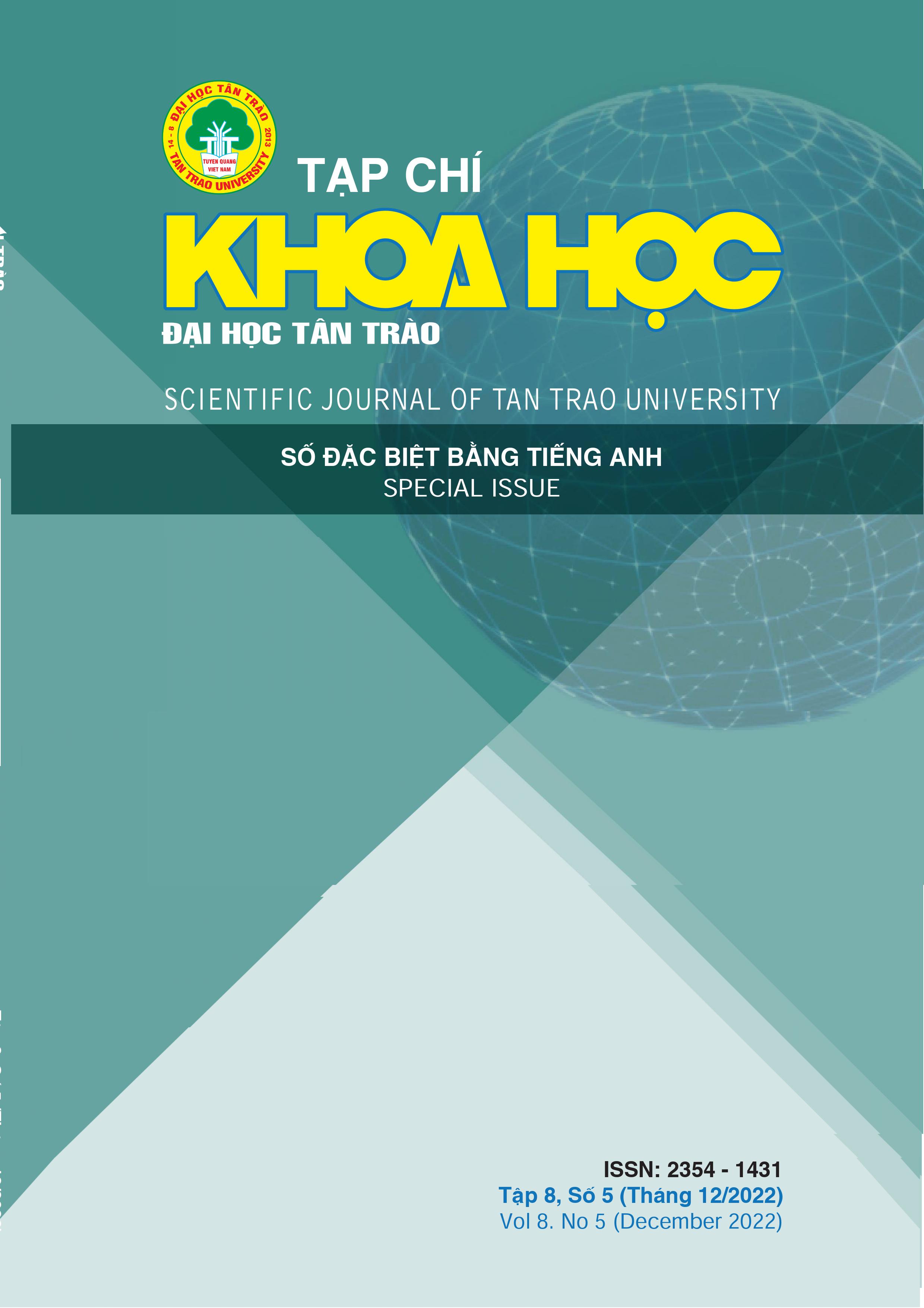 Downloads
How to Cite
Uong, H., & Vu, T. (2023). STRATEGIES FOR DEVELOPING ENGLISH SPEAKING SKILLS OF FIRST-YEAR ENGLISH MAJOR STUDENTS AT A HIGHER EDUCATION INSTITUTION. SCIENTIFIC JOURNAL OF TAN TRAO UNIVERSITY, 8(5). https://doi.org/10.51453/2354-1431/2022/873
Section
Humanities and Social Sciences
License
This work is licensed under a Creative Commons Attribution-ShareAlike 4.0 International License.
All articles published in SJTTU are licensed under a Creative Commons Attribution-ShareAlike 4.0 International (CC BY-SA) license. This means anyone is free to copy, transform, or redistribute articles for any lawful purpose in any medium, provided they give appropriate attribution to the original author(s) and SJTTU, link to the license, indicate if changes were made, and redistribute any derivative work under the same license.
Copyright on articles is retained by the respective author(s), without restrictions. A non-exclusive license is granted to SJTTU to publish the article and identify itself as its original publisher, along with the commercial right to include the article in a hardcopy issue for sale to libraries and individuals.
Although the conditions of the CC BY-SA license don't apply to authors (as the copyright holder of your article, you have no restrictions on your rights), by submitting to SJTTU, authors recognize the rights of readers, and must grant any third party the right to use their article to the extent provided by the license.