NGHIÊN CỨU ĐẶC ĐIỂM SINH HỌC CỦA SÁU DÒNG CHÈ ĐƯỢC TẠO RA BẰNG PHƯƠNG PHÁP LAI HỮU TÍNH
Keywords:
biological characteristics, hybrid tea, hybrid method
Abstract
This study presents the biological characteristics of six species of hybrid tea: species 119, 216, 317, 232, 233, and 212. The experiments were conducted and monitored for one year concerning the criteria of the morphology, leaves, and buds. The obtained results are as follows: species 317, 232, 233, 212 have a wooden body, small leaves, small or medium buds. Notably, the species 119 and 216 have a dust body, average leaves, and big buds, representing solid growth and the potential for high productivity. Most tea species have a captivating appearance; moderate buds mass, green or yellow-green leaves, and ordinary buds have green, yellow-green, or blue-purple colors. Two species of hybrid tea, species 212 and 233, have better growth ability, give higher productivity than domestic tea species and controlled species Kim Tuyen. Species 212 showed the highest productivity of 4,92 tons/ha, then species 233 of 4.58 tons/ha.
Downloads
Download data is not yet available.
References
[1] Hoàng Cự, Nguyễn Văn Tạo (2004), " Thành phần nguyên liệu các giống chè mới trồng tại Phú Hộ - Phú Thọ", Tạp chí Nông nghiệp và Phát triển nông thôn, (5), Hà Nội.
[2] Ngô Xuân Cường (2011), Nghiên cứu công nghệ sản xuất chè xanh chất lượng cao, Luận án Tiến sí kỹ thuật, Đại học Bách khoa Hà Nội.
[3] Đỗ Văn Ngọc (2006), " Nghiên cứu các giải pháp khoa học công nghệ và thị trường để nâng cao chất lượng chè xuất khẩu", Kết quả nghiên cứu Khoa học và chuyển giao công nghệ giai đoạn 2001- 2005, NXB Nông nghiệp, Hà Nội, Tr 78 – 81.
[4] L. Rajanna and M. Ramakrishnan1* (2010), "Isozyme studies on some selected Camellia clones", International Journal of Engineering Science and Technology, pp 6918-6921.
[5] Min- Jer Lu a, b, Chinshuh Chen b*, (2007): "Enzymatic tannase treatment of green tea increases in vitro inhibitory activity against N- nitrosation of dimethylamine ".
[6] S.M. Kamunya, F.N. Wachira, R.S.Pathak, R.C.Muoki, J.K.Wanyoko, W.K.Ronno and R.K.Sharma (2009), "Quantitative genetic parameters in tea (Camellia sinensis (L.) O. Kuntze)", African Journal of Plant Science Vol. 3 (5), PP. 093- 101.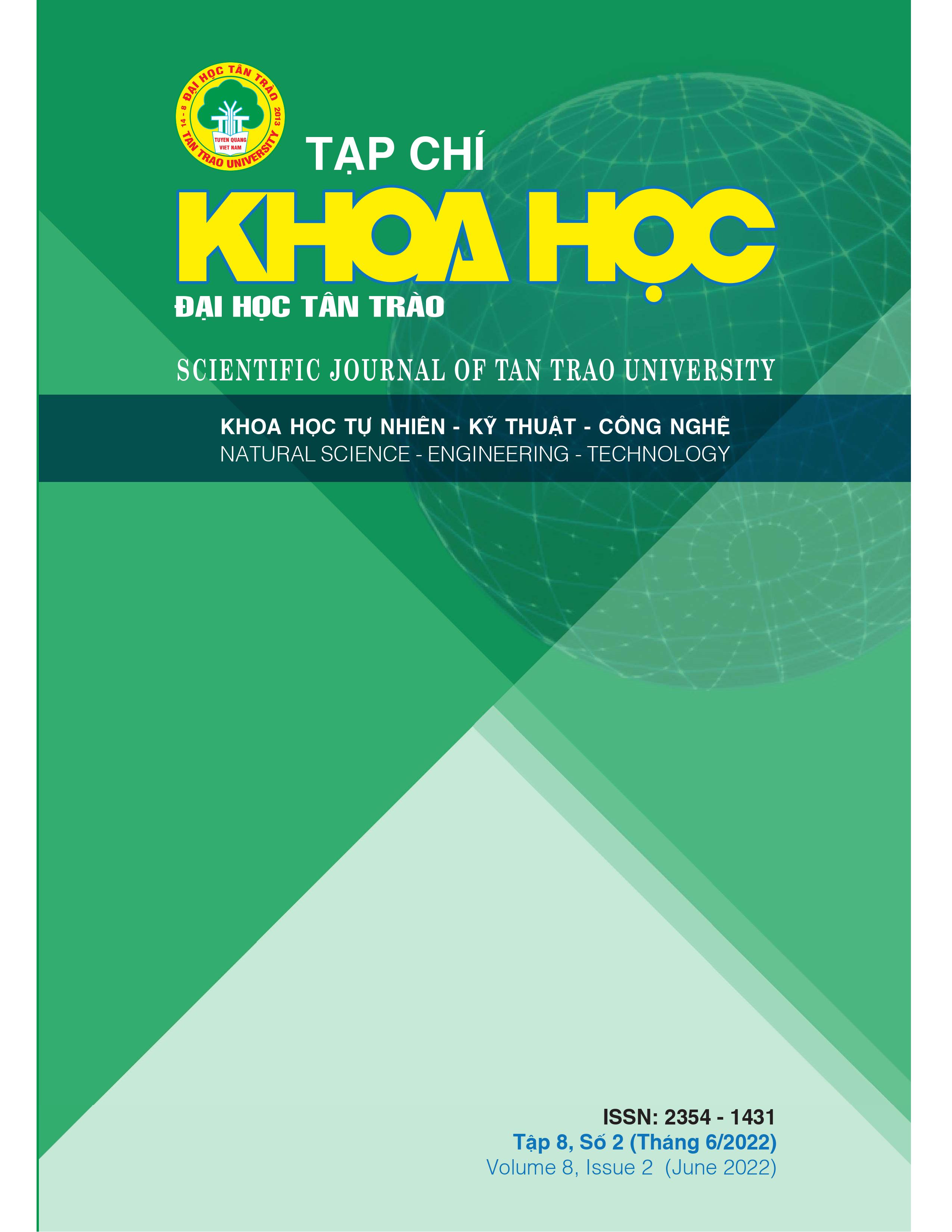 Downloads
How to Cite
Trần Thị Ngọc, D., Hà Thị Thanh, Đoàn, Nguyễn Hải, Đăng, & Nguyễn Lê, H. . (2022). NGHIÊN CỨU ĐẶC ĐIỂM SINH HỌC CỦA SÁU DÒNG CHÈ ĐƯỢC TẠO RA BẰNG PHƯƠNG PHÁP LAI HỮU TÍNH. SCIENTIFIC JOURNAL OF TAN TRAO UNIVERSITY, 8(2). https://doi.org/10.51453/2354-1431/2022/751
Section
Natural Science and Technology
License
This work is licensed under a Creative Commons Attribution-ShareAlike 4.0 International License.
All articles published in SJTTU are licensed under a Creative Commons Attribution-ShareAlike 4.0 International (CC BY-SA) license. This means anyone is free to copy, transform, or redistribute articles for any lawful purpose in any medium, provided they give appropriate attribution to the original author(s) and SJTTU, link to the license, indicate if changes were made, and redistribute any derivative work under the same license.
Copyright on articles is retained by the respective author(s), without restrictions. A non-exclusive license is granted to SJTTU to publish the article and identify itself as its original publisher, along with the commercial right to include the article in a hardcopy issue for sale to libraries and individuals.
Although the conditions of the CC BY-SA license don't apply to authors (as the copyright holder of your article, you have no restrictions on your rights), by submitting to SJTTU, authors recognize the rights of readers, and must grant any third party the right to use their article to the extent provided by the license.