ANXIETY FACTORS AFFECTING EFL STUDENTS' LISTENING COMPREHENSION
Keywords:
Anxiety factors, student listening anxiety, listening comprehension, Foreign Language Listening Anxiety Scale (FLLAS).
Abstract
The mixed-method study sheds light on the factors influencing 84 non-English major sophomores' listening anxieties in a public university in Vietnam. The questionnaire adapted from Kim (2000) and semi-structured interviews were employed to discover students' anxiety levels related to teacher factors, student factors, and materials during their listening process. The findings show a high frequency of anxiety experienced by many students when they were distracted during the listening process. Secondly, the concern emerges from unfamiliar English pronunciation and accents, which led to students' difficulty understanding English audio recordings. As a third obstacle, the speaker may experience discomfort if they speak at a fast speed, which pertains to the second concern of being overworked. Lastly, students' nervousness during listening sessions was worsened by instructor-related worries. Though there was still restraint, several pedagogical implications were additionally presented in the field to help increase students' anxiety in EFL listening classes.
Downloads
Download data is not yet available.
References
[1]. Cresswell, J. W. (2012). Educational research: Planning, conducting and evaluating quantitative and qualitative research (4th ed.). Boston: Pearson Education.
[2]. Dalman (2012). Listening Anxiety: The Relationship between Listening Anxiety, Listening Comprehension Strategies, and Listening Performance. German: Lambert Academic Publishing.
[3]. Fang, X. (2011). Anxiety in EFL listening comprehension. Theory and Practice in Language Studies, 1(12), 1-3.
[4]. Kim, J. H. (2000). Foreign language listening anxiety: A study of Korean students learning English. Doctoral thesis. University of Texas, Austin.
[5]. Kimura, H. (2008). Foreign language listening anxiety: Its dimension and group differences. JALT Journal, 30(2), 173-196.
[6]. MacIntyre, P. D., & Gardner, R. C. (1994). The subtle effects of language anxiety on cognitive processing in the second language. Language learning, 44(2), 283-305.
[7]. Gonen, M. (2009). The relationship between FL listening anxiety and FL listening strategies: The case of Turkish EFL learners. In Proceedings of the 5th WSEAS/IASME International conference on educational technologies (pp. 44-49).
[8]. Serraj, S. (2015). Listening anxiety in Iranian EFL learners. International Journal of Scientific and Research Publications, 5(6), 1-8.
[9]. Tran, T. T. X. (2019). Anxiety in foreign language classrooms at Hanoi National University of Education. Vietnam Journal of Education, 6, 60-64.
[10]. Tran, T. T. T., Moni, K. and Baldauf Jr., R. B. (2019). Foreign language anxiety: Understanding its sources and effects from Insiders' perspectives. The Journal of Asia TEFL, 10(1), 95-131.
[11]. Vandergrift, L. (1997). The comprehension strategies of second language (French) listeners: A descriptive study. Foreign Language Annals, 30(3), 387-409. DOI: 10.1111/j.1944-9720.1997.tb02362.x.
[12]. Vogely, A. J. (1998). Listening comprehension anxiety: Students' reported sources and solutions. Foreign Language Annals, 31(1), 67-80.
[13]. Zhai, L. L. (2015). Influence of Anxiety on English Listening Comprehension: An Investigation Based on the Freshmen of English Majors. Studies in Literature and Language, 11(6), 40-47.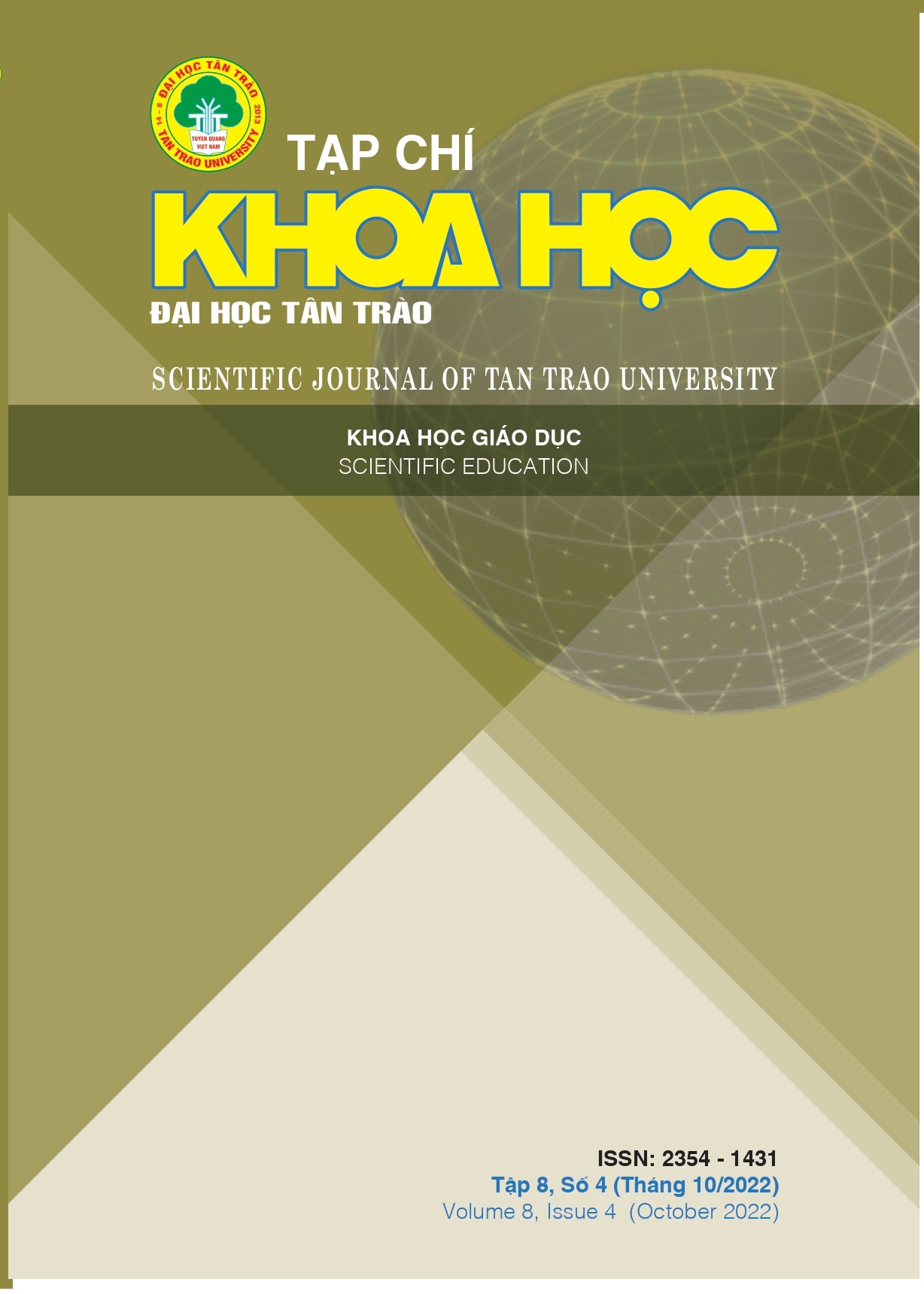 Downloads
How to Cite
Le My, T., & Do, G. (2023). ANXIETY FACTORS AFFECTING EFL STUDENTS' LISTENING COMPREHENSION. SCIENTIFIC JOURNAL OF TAN TRAO UNIVERSITY, 8(4). https://doi.org/10.51453/2354-1431/2022/813
Section
Humanities and Social Sciences
License
This work is licensed under a Creative Commons Attribution-ShareAlike 4.0 International License.
All articles published in SJTTU are licensed under a Creative Commons Attribution-ShareAlike 4.0 International (CC BY-SA) license. This means anyone is free to copy, transform, or redistribute articles for any lawful purpose in any medium, provided they give appropriate attribution to the original author(s) and SJTTU, link to the license, indicate if changes were made, and redistribute any derivative work under the same license.
Copyright on articles is retained by the respective author(s), without restrictions. A non-exclusive license is granted to SJTTU to publish the article and identify itself as its original publisher, along with the commercial right to include the article in a hardcopy issue for sale to libraries and individuals.
Although the conditions of the CC BY-SA license don't apply to authors (as the copyright holder of your article, you have no restrictions on your rights), by submitting to SJTTU, authors recognize the rights of readers, and must grant any third party the right to use their article to the extent provided by the license.