RESEARCH ON THE SELECTION OF MICRO-ORGANISM DECOMPOSING ORGANIC MATTERSGENERATED IN THE PRODUCTION OF YARN FROM RAMI
Keywords:
Green thorn (Ramie); Bioproducts; Cellulose resolution
Abstract
During the process of crop restructuring, thorns emerged as a bright object for many localities to choose in place of other inefficient crops. The area of green hemp for fiber production in Vietnam is over 1,000 hectares (2018). After taking the bark to make yarn, a large amount of rami waste is released into the environment. These wastes, after a period of time, in order to be naturally biodegradable, create a bad smell and rot for the surrounding environment. There is a need for a specialized microbial product to treat rami waste to clean up the environment while creating an organic fertilizer supply back to the soil growing rami. To solve this problem, the research has collected, isolated, and selected the strains of microorganisms having the capability of resolving cellulose and lignin, the main components in the stems of rami. The results have selected four strains of microorganisms with high cellulose and lignin resolution activity to produce bio-degradable products of rami, including actinomycetes RR04, BG05, BG08, bacteria RR05. The study has also selected the most suitable fermentation medium, MT2, so that the strains of microorganisms have the best biological activity in treating hemp residue.
Downloads
Download data is not yet available.
References
[1] Chinh, T. T., Chinh, T. K., Tam, N. T., Thuc, H. T. (2012). Technology of planting, caring, collecting and preserving products from rami. Agriculture Publishing House.
[2] The Ministry of Science and Technology announced. (2011). National standard, TCVN 8741:2011. Agricultural microbiology - Short - term preservation method.
[3] Chinh, L. H. (2001). Medical Microbiology. Medical Publisher.
[4] Connie, R., Mahon, M. S., Giorge Manuselis, J. R. (1995). Diagnostic Microbiology. WB Saunder Company.
[5] Howard, L., Ypdyke, Elaine, L., James, O. (1970). Mycotic, and parasitic infections, 5th. Bodily. Diagnostic Procudures for Bacterial, American Public Health Association, Inc., New York.
[6] Williams and Wilkins Co. (1986). Bergey- Manual of sustematic bacteriology.
[7] Son La province. (2018). Prospects for the development of rami in Moc Chau district. http://www.mocchau.sonla.gov.vn/.../4354.
[8] Young agriculture. (2018). Technology of growing green rami. http://www. nongnghieptre.com
[9] Agriculture – Forestry – Fisheries. (2018). Selected green rami brochure. Agriculture. https://tailieu.vn.
[10] Agricultural extension Cultivation. (2018). Quang Ngai: Experimental planting of green rami - Agriculture Newspaper. https://nongnghiep.vn.
[11] Scientific database system. (2018). Research and development of green rami. http://elib.dostquangtri.gov.vn.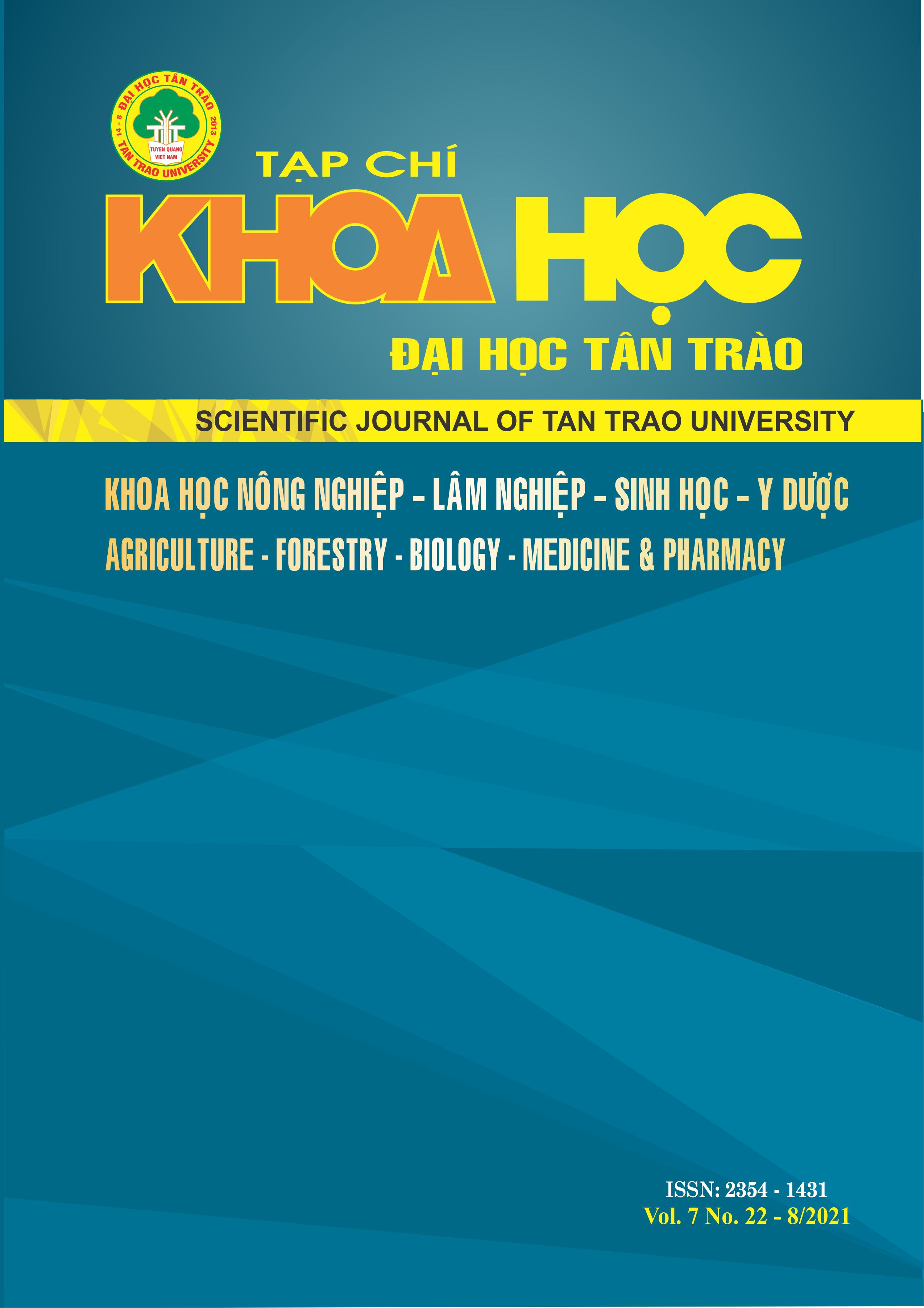 Downloads
How to Cite
Dư Ngọc, T., & Vũ Kiều, H. (2021). RESEARCH ON THE SELECTION OF MICRO-ORGANISM DECOMPOSING ORGANIC MATTERSGENERATED IN THE PRODUCTION OF YARN FROM RAMI. SCIENTIFIC JOURNAL OF TAN TRAO UNIVERSITY, 7(22). https://doi.org/10.51453/2354-1431/2021/569
Section
Natural Science and Technology
License
This work is licensed under a Creative Commons Attribution-ShareAlike 4.0 International License.
All articles published in SJTTU are licensed under a Creative Commons Attribution-ShareAlike 4.0 International (CC BY-SA) license. This means anyone is free to copy, transform, or redistribute articles for any lawful purpose in any medium, provided they give appropriate attribution to the original author(s) and SJTTU, link to the license, indicate if changes were made, and redistribute any derivative work under the same license.
Copyright on articles is retained by the respective author(s), without restrictions. A non-exclusive license is granted to SJTTU to publish the article and identify itself as its original publisher, along with the commercial right to include the article in a hardcopy issue for sale to libraries and individuals.
Although the conditions of the CC BY-SA license don't apply to authors (as the copyright holder of your article, you have no restrictions on your rights), by submitting to SJTTU, authors recognize the rights of readers, and must grant any third party the right to use their article to the extent provided by the license.