THE ISSUE OF INFORMAL LABOR – EXPERIENCE IN SOME COUNTRIES
Keywords:
labor, informal labor, policy
Abstract
Informal labor is an indispensable part of labor in all economies despite different levels of development, nature and forms of expression. The article focuses on studying issues related to the informal labor characteristics of some countries and regions, especially the policies that these countries apply to increase the efficiency of the labor force, and minimize their limitations to the economy and social issues. European countries focus on salary and welfare aspects, and with governance adjustment, while other countries like China or India mainly carry out welfare support activities but there is no sustainable training and social protection system. These are valuable experiences that can be learned, applied and built on temporary and long-term solutions to the problem of informal labor in Vietnam these days.
Downloads
Download data is not yet available.
References
[1] Bach, H. (2020). COVID-19 exposes the dangers of the informal economy. Baonghean. https://baonghean.vn/covid19-phoi-bay-moi-nguy-cua-nen-kinh-te-phi-chinh-thuc-267762.html
[2] GFCD. (2019). International Conference "Sharing on Informal Labor in Vietnam."http://gfcd.org.vn/hoi-thao-quoc-te-chia-se-ve-lao-dong-phi-chinh-thuc-o-viet-nam.html
[3] Nhi, H. (2019). India is the fastest growing economy in the world. Baothuathienhue.Vn. https://baothuathienhue.vn/an-do-la-nen-kinh-te-dang-phat-trien-nhanh-nhat-the-gioi-a72524.html
[4] International Labour Organization (ILO). (2005). INFORMAL ECONOMY : The Growing Challenge For Labour Administration.
[5] International Labour Organization (ILO). (2012). Informal economy in China and Mongolia. https://www.ilo.org/beijing/areas-of-work/informal-economy/lang--en/index.htm
[6] Oanh, K. (2021). Getting over the COVID-19, China's economic picture is even brighter. https://vneconomy.vn/buoc-qua-covid-19-buc-tranh-kinh-te-trung-quoc-cang-ruc-ro-20210121123430684.htm
[7] Liang, Z., Appleton, S., Song, L. (2016). Informal Employment in China: Trends, Patterns and Determinants of Entry. In IZA Discussion Paper (Issue 10139).
[8] Long, P. (2020). Unemployment is hard to measure: China's "black swan" https://tuoitre.vn/so-nguoi-that-nghiep-kho-do-dem-thien-nga-den-cua-trung-quoc-20200511142747277.htm
[9] Vinh, Q. (2020). India heavily suffered by COVID-19.
Consosukien.Vn. http://consosukien.vn/kinh-te-an-do-hung-chiu-suc-ta-n-pha-nang-ne-tu-covid-19.htm
[10] Srija, A., Shirke, S. V. (2014). An Analysis of the Informal Labour Market in India. In Special Feature (Confederation of Indian Industry): Vol. September- (pp. 40–46). http://www.ies.gov.in/pdfs/CII EM-october-2014.pdf
[11] Swider, S. (2015). Building China : Informal Work and the New Precariat Building China : Informal Work and the New Precariat.
[12] The World & Vietnam Report. (2020). China's economy is about to undergo changes not seen in the past 100 years, https://baoquocte.vn/kinh-te-trung-quoc-sap-co-nhung-thay-doi-chua-tung-thay-trong-100-nam-qua-128234.html
[13] Vietnam News Agency. (2020). India becomes the 5th largest economy in the world. Tuoitre.Vn.https://tuoitre.vn/an-do-tro-thanh-nen-kinh-te-lon-thu-5-the-gioi-20200219152059993.htm
[14] Vietnam Trade Office in India. (2021). India's economy decreased by 23.9% in the first quarter of fiscal year 2020-2021. https://moit.gov.vn/web/guest/tin-chi-tiet/-/chi-tiet/kinh-te-an-đo-giam-23-9-trong-quy-i-nam-tai-chinh-2020-2021-20407-22.html
[15] Luu, T. (2020). The guidelines and policies in China's socio-economic recovery and development in 2020. https://www.tapchicongsan.org.vn/the-gioi-van-de-su-kien/-/2018/820712/chu-truong%2C-chinh-sach-khoi-phuc-va-phat-trien-kinh-te---xa-hoi--cua-trung-quoc-nam-2020.aspx
[16] Wayne, M. Morison. (2019). China's Economic Rise: History, Trends, Challenges, and Implications for the United States. https://www.everycrsreport.com/files/20190625_RL33534_088c5467dd11365dd4ab5f72133db289fa10030f.pdf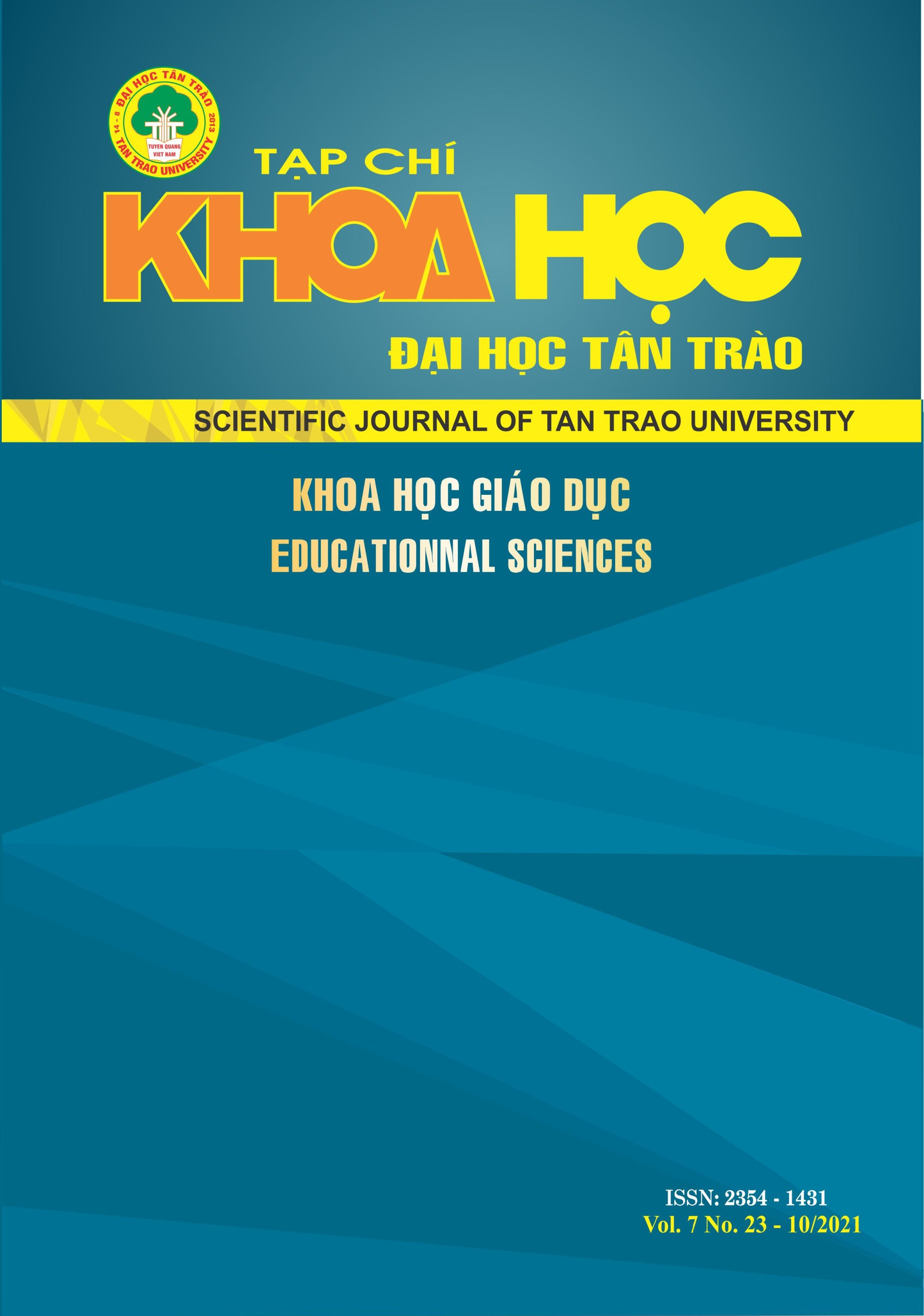 Downloads
How to Cite
Nguyễn, T. T., & Vũ Thị, P. T. (2021). THE ISSUE OF INFORMAL LABOR – EXPERIENCE IN SOME COUNTRIES. SCIENTIFIC JOURNAL OF TAN TRAO UNIVERSITY, 7(23). https://doi.org/10.51453/2354-1431/2021/588
Section
Humanities and Social Sciences
License
This work is licensed under a Creative Commons Attribution-ShareAlike 4.0 International License.
All articles published in SJTTU are licensed under a Creative Commons Attribution-ShareAlike 4.0 International (CC BY-SA) license. This means anyone is free to copy, transform, or redistribute articles for any lawful purpose in any medium, provided they give appropriate attribution to the original author(s) and SJTTU, link to the license, indicate if changes were made, and redistribute any derivative work under the same license.
Copyright on articles is retained by the respective author(s), without restrictions. A non-exclusive license is granted to SJTTU to publish the article and identify itself as its original publisher, along with the commercial right to include the article in a hardcopy issue for sale to libraries and individuals.
Although the conditions of the CC BY-SA license don't apply to authors (as the copyright holder of your article, you have no restrictions on your rights), by submitting to SJTTU, authors recognize the rights of readers, and must grant any third party the right to use their article to the extent provided by the license.